A City Refuge In Washington by Anastasia Reese – Anastasia Reese was born in Siberia, grew up in Russia's Far East, and attended school in Seoul, South Korea. She has enjoyed the arts in general for as long as she can remember, and she ended up enrolling in university to study interior design and architecture. Her business is now flourishing, and she is producing incredible masterpieces. One of them is this project in Washington, which the Modern Chandeliers blog is delighted to present to you! Let's work together to decipher this enigmatic design.
---
See also: The Enigmatic Cairo House: A Luxurious Novelty By Noura Faris
---
Revealing The Mysteries of Anastasia Reese
Entryway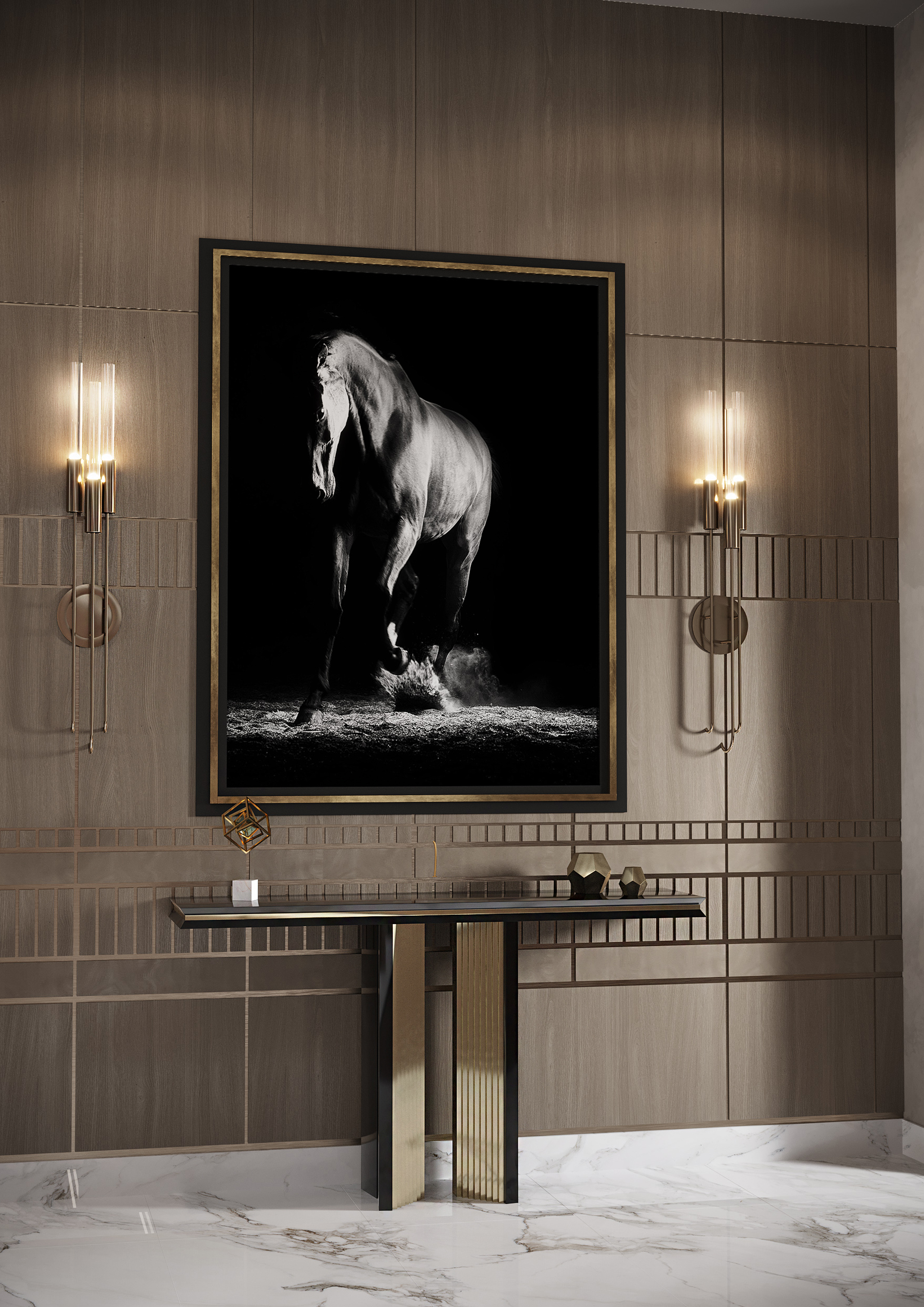 The main reception point of any home is the entryway, therefore this area should set the tone for the remainder of the grandeur you'll discover in this unique residence! This entryway design was endowed with a premium selection of materials and colors that work together to create the best elements.
One of them is the Beyond Console, which is LUXXU's best-selling console. This item has a contemporary vibe to it that will dazzle everyone who sees its opulent lines. Furthermore, the Gala Torch Wall adds a touch of sophistication to the picture by framing it in a way that blends in with the rest of the architecture.
---
Living Room
When you enter the living room, you can immediately sense the moody atmosphere it produces, but also its inviting coziness. You'll feel like you're having the ultimate glamping experience thanks to the well-thought-out positioning of the lower sofa and a basic yet stylish center table!
A clever lighting element is required in each living area to combine with superb upholstery so that maximum comfort can be provided. The Liberty Suspension is a one-of-a-kind addition to this extraordinary living space. This is a demanding piece to blend richness and elegance while providing good and expert illumination to this area.
---
See also: Be Inspired By These Exquisite Living Rooms
---
Main Dining Room
There are two dining rooms in this magnificent home. Because this is the primary one, it must have the most extravagant and high-end furniture and features to properly bring out the best of this home and disseminate the feeling to anybody who uses it or visits!
Opulence in the dining room is unavoidable when building a wonderful space like this one. With its distinctive look and high-quality materials, the Beyond Dining Table is the ideal dining table to match with a one-of-a-kind lighting like the Empire Suspension; this combination truly exemplifies the stunning attractiveness of the modern design.
The Empire II Wall Lamp, a piece that brings the best illumination with maximum richness, and the Darian Sideboard, a design that combines functionality and elegance, provide that extra touch of luxury in the background of this dining set.
---
---
Anastasia Reese's Dark And Exclusive Haven
Kitchen
To reflect the house's interior design style, a kitchen should have a touch of elegance. This area is luxurious and comfortable, and this décor, with its amazing perspective of nature, will let its owner savor every moment while preparing exceptional foods for special guests.
Anastasia Reese chose the Charla Counter Stool for maximum comfort and elegance, thanks to its eye-catching design that will undoubtedly become the focal point of the room. In terms of lighting, a unique Gala Chandelier was developed, making this set a one-of-a-kind marvel to behold.
---
Dining Room
Anastasia Reese designed a more intimate dining room that didn't compromise on elegance. This location is ideal for when you want a more casual gathering centered on serving tea and providing a chance to relax and appreciate the taste and scent of the tea with the people who matter the most.
The Littus Dining Table was the ideal component for achieving this look. Due to its fantastic golden lines, this design adopts a circular shape that sublimely embellishes any dining area and provides the room with a lavish sense. The Empire Suspension, one of LUXXU's most iconic lighting components, looks fantastic with these golden accents. The Charla Dining Chair was the ideal choice for this space because of its comfort and elegance, which fit seamlessly with the rest of the design.
---
Master Bedroom
Harmoniously putting together ornamental pieces that fit wonderfully together, Anastasia Reese created this master bedroom. This allowed the entire environment to aid in relaxation, making it the ideal location for not only getting a good night's sleep but also practicing mindfulness due to its tranquility.
The Château Bed is the center of attention, as it transforms even the most basic rooms into magnificent chambers. In the meanwhile, the Beyond Side Table is the ideal complement to this bed. The Empire Pendants and the Waterfall Rectangular Suspension contrast wonderfully with the schist wall in this space, which has a dark ambiance.
---
See also: Admire These Luxury Bedroom Ideas
---
Bathroom
One of the best kinds of self-love is taking a hot bath with some of the most luxurious bath bombs and resting after a long and exhausting day! This opulent bathroom contributes to this by utilizing high-end lighting and a dramatic chandelier to add brightness.
The Burj Collection's golden embellishments contrast perfectly with the dark walls in this special bathroom design. The Burj Chandelier illuminates the space with a bold yet sophisticated luminosity. The striking Burj Wall Lamp completes the design by adorning what would otherwise be a plain wall.
---
Office
To create the ideal environment with the correct ambiance to promote productivity, a fantastic home office requires high-quality furniture. Anastasia Reese chose LUXXU pieces with care to create a modern workspace that is both elegant and comfortable.
The end result was a workplace with a wood-toned color palette and a contemporary approach to interior design. The desk fits in perfectly with the environment and contrasts beautifully with the Charla Office Chair, an upholstery piece noted for its ergonomic design that promotes good posture. The Waterfall Floor Lamp adds a rich touch to the decor while creating an intimate ambiance.
Not only these, but Anastasia also picked some of the most beautiful pieces from other brands such as: the Lasdun Desk and Blake Shelf from Essential Home, the Miles Table Lamp by DelightFULL and the Monocles Handle TW5007 by PullCast which are perfect for retro lovers that can mix and match your designs!
---
See also: Admire These Amazing Offices With Applegate Tran Interiors
---
If you enjoyed this article regarding A City Refuge In Washington by Anastasia Reese you can also find more interior design inspirations on our Pinterest boards and Instagram page.