Get To Know Studio KO and Their Mark On The Map –> Karl Fournier and Olivier Marty, jointly known as Studio KO, are leaving their mark on the map. With offices in Paris, Marrakech, and London, and projects across the globe, the French architects are partners in work and life.

Studio KO best-known works around the globe
"Our job should be about reaching timelessness and staying away from trends. Otherwise you'e a has-been." 
Studio KO, which Fournier and Marty established in 2000 when they were just out of architecture school, has been praised for its narrative-driven design. But narrative takes you only so far, and the pair have never defined themselves too rigidly.
Editor's Choice
See Also: GET INSPIRED WITH THESE CLOSET LIGHTING IDEAS
get to know studio ko
The Yves Saint Laurent Museum in Marrakech, Morocco
Dedicated to the legacy of Yves Saint Laurent, this museum glosses over the relationship between creation and commerce. Within the museum's hushed and tranquillised precincts, its marbled interiors are coolly luxurious, like a silk lining, and  there is little intimation of the outside world's existential blare and clamour. These are, after all, fashion's Olympian heights and the atmosphere is suitably rarefied.
Moroccan Villa Overlooks The Snowy Atlas Mountains
Situated just a half-hour drive from Marrakech outside a small town called Tagadert is 'Villa K', a five-bedroom retreat. This simple construction of clay and earth bears a minimalist facade, punctuated by glass sliding doors and large windows that perfectly frame the bucolic countryside and graphic elements of the building itself. From the lounge area, a large terrace and 30 meter long infinity pool stretch out towards the horizon and the snowy Atlas Mountains.       get to know studio ko
Editor's Choice
See Also: HERE IS THE REASON WHY YOU CAN'T MISS THE SPECIAL INSTAGRAM LIVE WITH MASQUESPACIO!
Villa E in Ourika, Morocco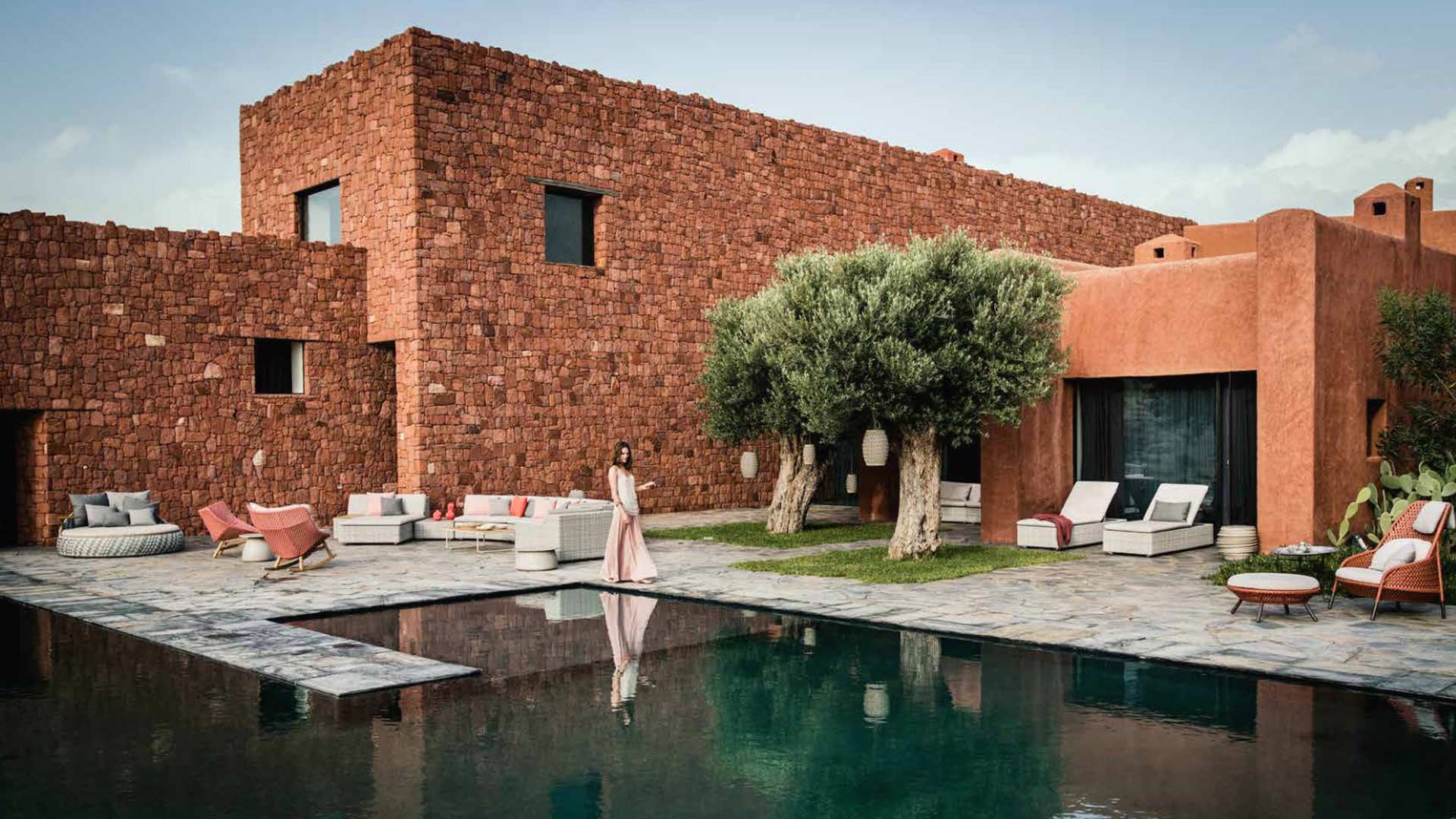 This stunning villa has 7 bedrooms, 7 bathrooms an infinity pool and a private tennis court. Set in an area of 6 hectares and only minutes away from the city of Marrakech, you'll sure enjoy a quiet environment at the foot of the Atlas mountains and a pine forest.
Villa G in Bordeaux, France
'Villa G' is a lesson in simplicity and a celebration of nature—its concrete mass sitting above the forest of Luberon in France. Its interior design minimal and uncluttered, and its exterior a clever play on balance and form.  From the sky, the home blends with the property, a green roof softening the harsh edges of the concrete structure. get to know studio ko
See Also: LIGHT UP YOUR INSPIRATION WITH THIS LUXURIOUS MANSION!
Villa D Project in El Ouidane, Morocco
This project brings a warm textural play of timber, leather and wool. Custom-designed banquettes in timber and leather, traditional Moroccan Beni Ouarain rugs and rustic objets trouvés mix with simple designer lights and contemporary fittings.
Apartment Place Du Palais Bourbon in Paris
In this project they added glamorous interiors characterized by soft and sophisticated luxury materials… and – in theme with our Gold Living Rooms ideas – a lot of gold!
See Also: LIGHTING INSPIRATIONS TO STYLE UP YOUR LIVING ROOM
If you enjoyed this article about

Get To Know Studio KO and Their Mark On The Map,

 you can also find more interior design inspirations on our Pinterest boards and Instagram page.   

get to know studio ko
< ?php get_footer(); ?>
get to know studio ko