Interior Design Project: Blalock Home ⇒ This spacious home is a dream come true. With an Interior Design Project by Talbot Cooley Interiors, a design firm which focuses on creating sophisticated and unique projects based in Texas, their keen sense of contemporary French style has created the comfortable yet stylish home that their clients had envisioned.
The kitchen of the home is designed with luxurious natural materials, such as marble countertops, brass detailing and wooden flooring. The beams on the ceiling of the room showcase the original structure of the house, providing a rustic element that exhales comfort and familiarity to this Interior Design Project.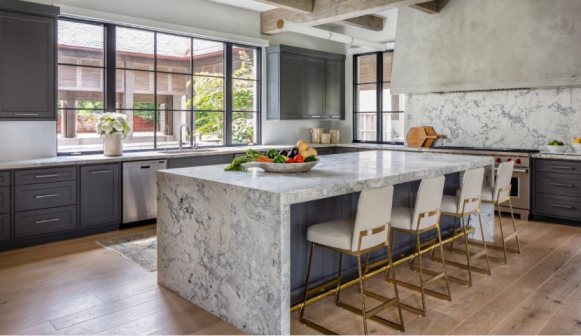 Moving on to the living room, a busy open-floor space containing quality upholstery for maximum comfort, colourful details to brighten the room and a lot of art pieces that showcase the client's taste and vision for the home.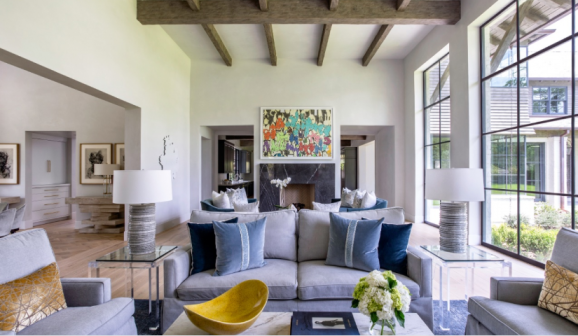 In a more secluded part of the living area, a conference-like large round dining table serves as the focal point of the space, with LUXXU's McQueen Chandelier as a much-needed lighting source and decorative piece, carrying an air of Interior Design Project and eclecticism into the room and perfectly matches the hardware on the dining chairs.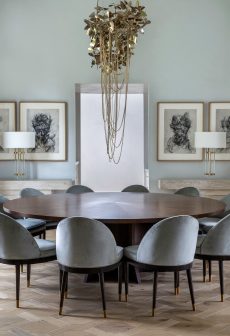 The bedroom is a welcome change in the home's overall colorful and busy Interior Design Project. With lighter, more muted shades that invite a relaxing ambience, the clients will be able to get their much-needed rest in this part of their house.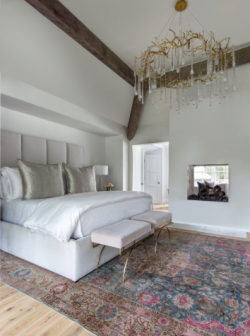 Talbot Cooley was able to not only capture their client's expectations and dreams for their home but also make it a stylish, playful and unique place suitable for a family to have memorable moments in.
Photo Credit to Kerry Kirk
⇒ Read Also: Yuko Nishikawa Creates Stunning Paper Lamps⇐
If you enjoyed our article about Interior Design Project, then feel free to subscribe to our blog and follow us on Instagram and Pinterest!