Joyce Wang – Modern Dining Room Designs You Need To See – Joyce Wang produces magnificent and wonderful settings that transport all design fans to a new historical period or to a tranquil retreat, from unusual hotels to trendy eateries. Joyce Wang, recognized as one of the top interior designers in the world, launched the Joyce Wang Studio in 2011 and focuses on luxury hospitality and residential modern interior design, as well as handmade furniture with a distinct style.
See also: The Prime Of Interior Design – Discover The New Charla Home By Luxxu
Admire These Sophisticated Dining Rooms By Joyce Wang
The goal with the stairs was to create a feeling of mobility while still providing a private culinary experience.
"Our goal with the staircase was to create a sense of fluidity, as well as provide private dining feel within it. It was quite a feat of engineering: we used five kilometers of cabling for the balustrades and we designed every element from scratch, including the hardware and supports."
– Joyce Wang
For this dining room in a private residence in Hong Kong, Joyce used walnut and cherrywood, which had previously been associated with traditional furniture, and reinterpreted how they could be used and combined with other materials and textures to create furniture designs that were more about relaxed comfort and domestic informality, more attuned to life in Brazil.
See also: The McQueen Collection – Where Lighting And Artwork Come Together
If You Enjoyed These Sophisticated Dining Room Designs
Admire These Modern Designs By Luxxu
An opulent dining room design where the black and gold reign. Every detail is carefully matched with the space, from the lighting to the furniture, and even the black wall itself. A modern and inviting space that will make an impression on your guests.
Refinement and style greatly enhance the look of any home bar. This bar design is a part of Luxxu´s deluxe project in Moscow and the variety of luxurious elements that are highlighted by the Liberty Pendant give this ambiance a dazzling aesthetic.
This home bar is equipped with the most refined upholstery in the form of the Nura swivel bar chair where one can sit comfortably and enjoy some quality time to relax, unwind and have a drink.
See also: Floor Lamps You Don't Want To Miss In 2021
In Need Of More Inspiration?
Check Out These Ambiances From Other Luxury Design Brands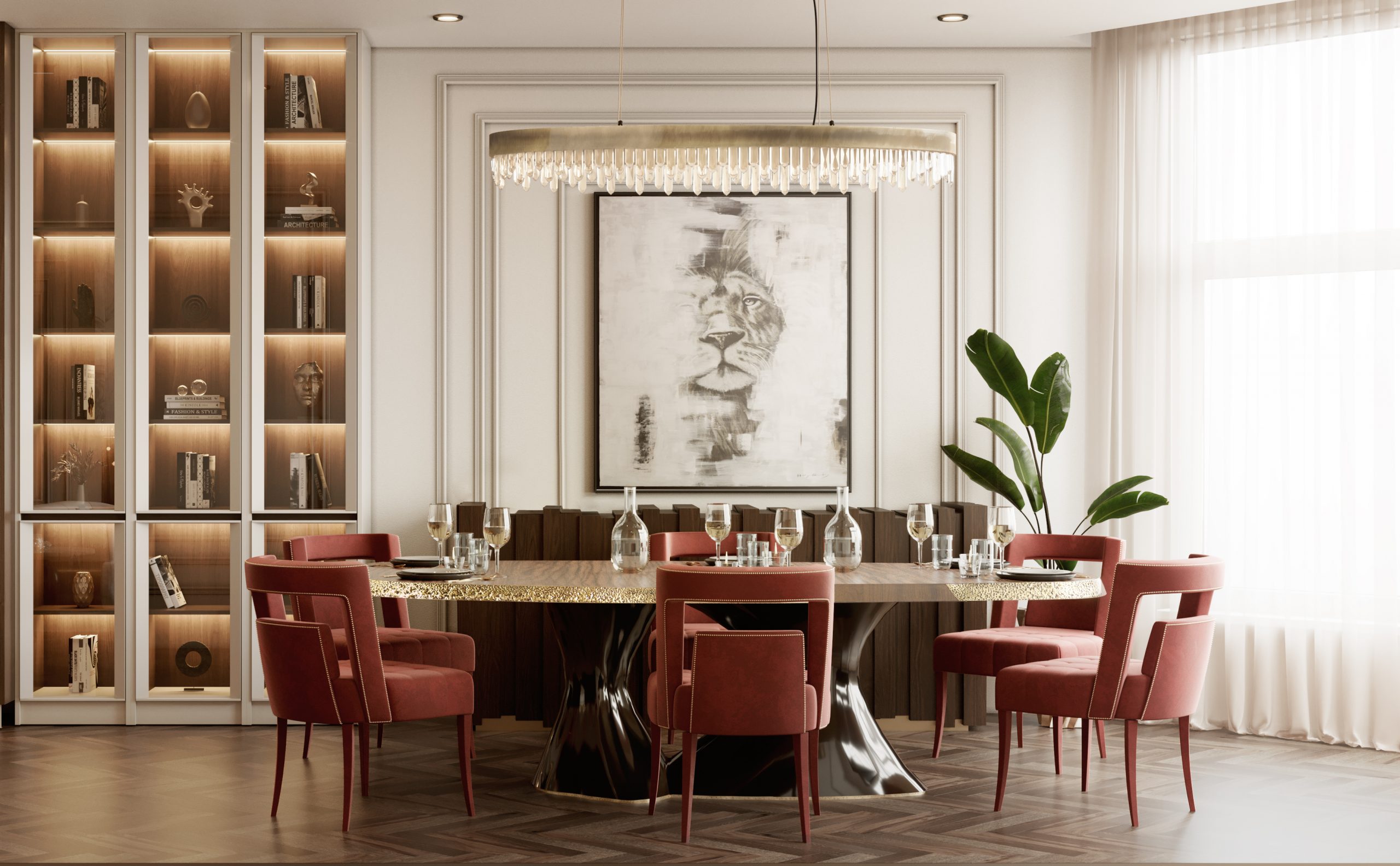 If you want to make your neutral design stand out, add a piece with a color that brings the whole space to life, like these dining chairs. Sometimes all you need is a velvet touch in your interior.
An empty room is a story waiting to happen, and you are the author. Contemporary Modern Design brings together elements from both styles not only to complement each other but also to create a harmonized space. The Cayo Dining Chair is our finest example of this interior harmony we seek every day.
See also: Admire Luxxu´s Newest Deluxe Apartment in the Heart of Moscow
If you enjoyed this article regarding Joyce Wang – Modern Dining Room Designs You Need To See then make sure to check out our socials to find news, inspirations, and more interior design ideas: Pinterest | Facebook | Instagram.