Office Inspirations Edition
⇒
Today's article is about office designs,
Modern Chandeliers Blog
 brings you some truly gorgeous home office ambiances by these experienced interior designers as well as some inspiration from other luxurious interior design brands.
Office Inspirations Edition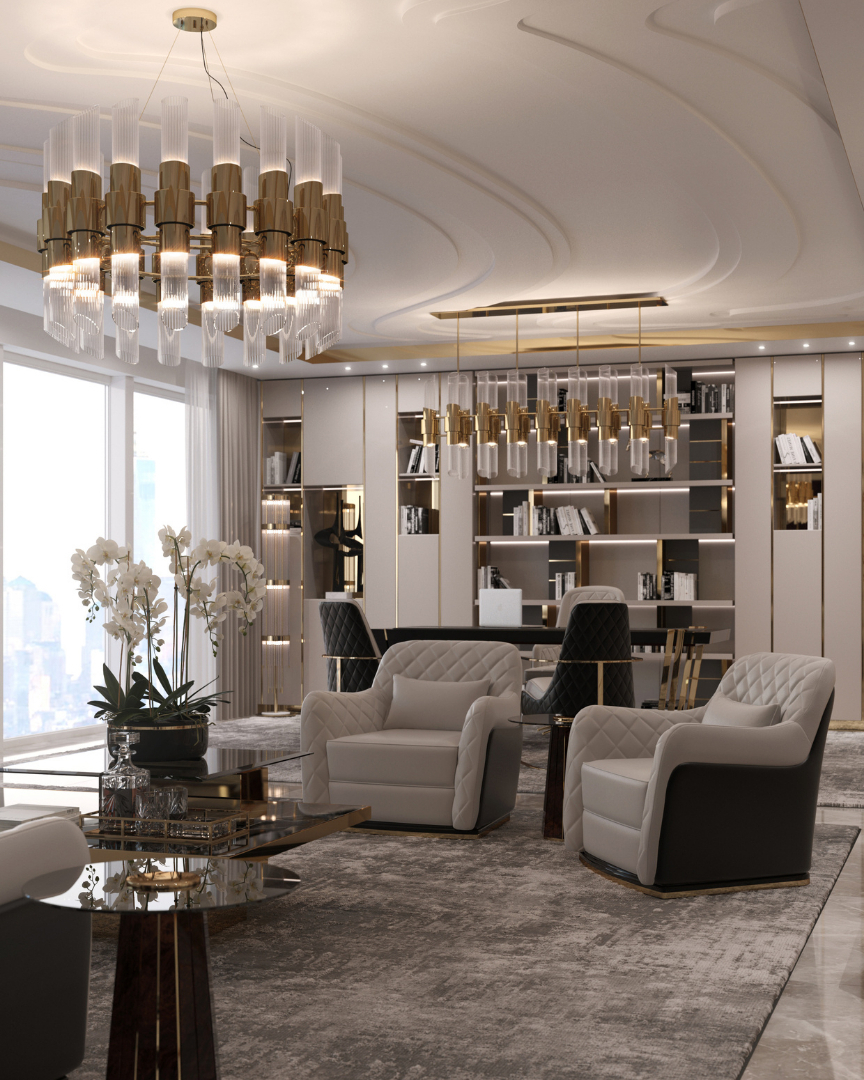 Every office should have a laser zone and not just for hard work. The modern and elegant Charla single sofas blend
luxury
and comfort into one, the perfect pieces to adorn your
office design.
This office design
was conceived by 
DD Interior Studio
 and highlights a more feminine ambiance, with blush-colored walls and curtains accompanied by modern furnishings. The light blue rug adds a touch of color to the room and maintains the Anglo-Saxon decorations and matches seamlessly with the golden tones of the 
Skyline door pull
.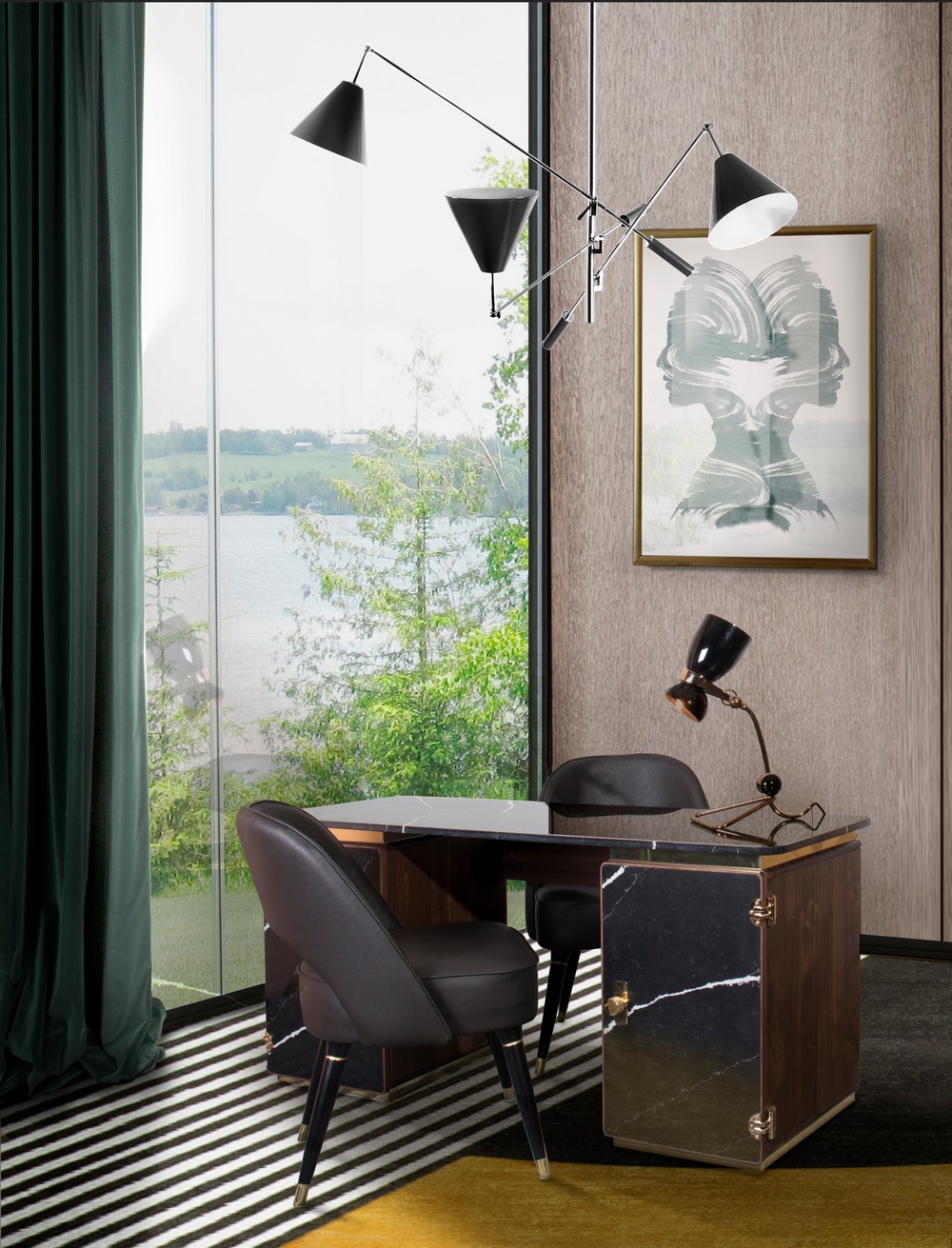 The 
Monocles decorative hardware
 can also be found in the exquisite mid-century modern office spaces below curated by 
Essential Home
. This exclusive piece showcases extreme simplicity and understated elegance and it is best paired against darker furnishings.
LUXXU's office furniture is all-kinds European, from its' metal edges to the sloped arms of its' chairs, while maintaining a luxurious and professional style that is sure to increase productivity and comfort while working.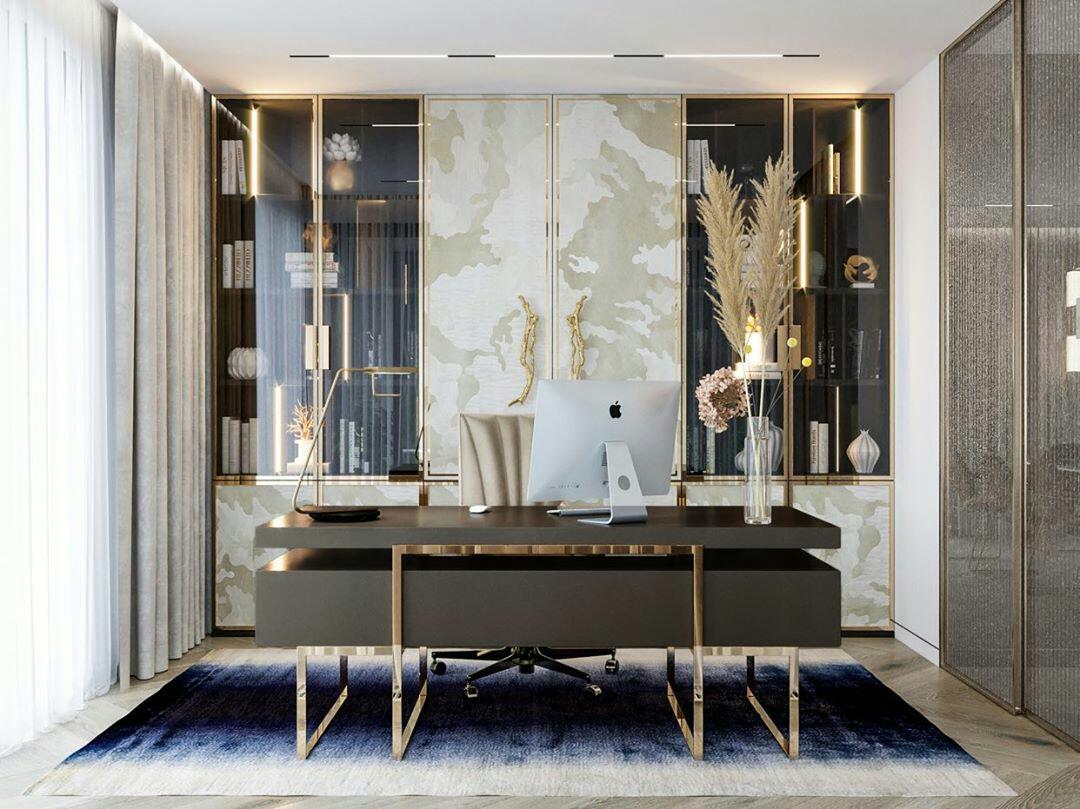 This astounding home office design belongs to the dynamic duo of fashion designers, Lee Bloor and Matthew Lucian (Lavish Alice). Highly curated with sublime and bespoke details, this decor beautifully merges functionality. It features designs from brands such as The Rug Company, The Sofa, and Chair Company, Rimadesio, and PullCast. The jewelry hardware shown in this office is the Flow door pull, an invigorating piece with an organic and fluid shape that decodes sophistication and personality.
Contemplate These Sophisticated Office Designs By Applegate Tran
home office
possesses not only incredible functionality but also a stupendous blend of colors.
See also: Nada Shehab – Eclectic Design Mastery With A Luxxu Essence
This office design is more than a source to produce great work, it is also a fountain of inspiration where a lovely outdoor area with a stunning view is adjacent to this gorgeous workspace.  
In Need Of More Inspiration? See Also These Office Ambiances From Other Luxurious Brands
Conduct the ideal work meeting in the midst of the charming aspects. This home office has a range of opulent furnishings that give this space a particular personality.  
Your home office should be an inspirational and stylish space that reflects your own style, hobbies, and goals. This wonderful workplace is brought to us by the Boca do Lobo.  
If you enjoyed this article regarding Office Inspirations Edition you can also find more interior design inspirations on our Pinterest boards and Instagram page.