The Most Inspiring Robert Couturier Inc. Projects – Couturier has contributed to major architecture and design books. He lectures widely at galleries and at arts and antique fairs, and participates in charitable and design-industry events. His work has been featured in such publications. Today we will show you his projects.
Biography
A graduate the École Camondo in Paris with a degree in interior architecture and design, Robert Couturier moved to New York in 1981. He took his first professional steps as a designer at Adam Tihany's practice in New York City. Within five years he was a partner in the firm and left his stamp on many a Manhattan nightclub and restaurant interior. He quickly established his own practice, which has been recognized in, among other media, Architectural Digest's prestigious annual list of the best decorators and architectural firms in the world. In June 2012, Elle Decor included Mr. Couturier in its A-list Top 60 Designers and British House & Garden named him one of the top 10 foreign decorators.
Two and a half decades later, the New York-based Couturier continues to execute grand-scale commissions in the U.S., Europe, South America, and Russia. Today his name has become synonymous with continental and international style and elegance working with clients such as Anne Hearst and Jay McInerney, Cecile David Weil, Fred Iseman, Frederic Fekkai and Vanity Fair special correspondent Amy Fine Collins.
See Also: Paris Top 20 Interior Designers
The Most Iconic Projects
Many of Mr. Couturier works can be considered iconic. Although to start with Sir James Goldsmith notable estate in Mexico, already mentioned in Biography, needs to be here on the first place. After that Couturier's career soared and clients from around the world sought him out to design their homes and interiors: from classical castles to contemporary condominiums.
An apartment in a midtown Manhattan skyscraper
When Robert Couturier began designing the interior of an apartment in a midtown Manhattan skyscraper, his client expressed one primary desire. "She wanted something ultra-contemporary because she had done everything else," Couturier says. The Polish businessman's wife had previously overseen the design of a number of the family's other homes in Europe. "They have incredibly beautiful houses," says Couturier. "They have one in Warsaw, another by a lake in the Polish countryside, a place in Geneva, a place in Sardinia, and a boat. Each reflects a different side of her personality."
But the client envisioned her Manhattan home as "the modern one," he says. A mutual friend put her in touch with Couturier. While the decorator is known as a master of mixing periods and styles, he was thrilled to push his work in a new direction.
Midtown Highrise
A deeply learned alumnus of Paris's rigorous École Camondo school for design and interior architecture, Robert Couturier can do consummate period-French style with his eyes closed. But he'd rather not. "It's a wasteful and vain exercise," he says. "We no longer live that way." Instead the Paris-born, Manhattan-based conjurer of buildings, interiors, and gardens from America to Azerbaijan (he's constructing a 100,000-square-foot palace near Baku) likes to walk on the wild side.
Alice and Olivia Miami
With a mix-master approach he calls "sensual, experimental, and witty," Couturier composes rooms that are bracing essays in contemporary connoisseurship, confidently seasoned with historical elements (rare antiques, hand-carved boiserie), conversation-piece art, exquisite fabrics in saturated colors, and unexpected objets de vertu that establish a patina of globe-trotting sophistication. Being adventuresome is Couturier's stylistic wont. As he explains, "I detest anything that takes itself too seriously."
English Country House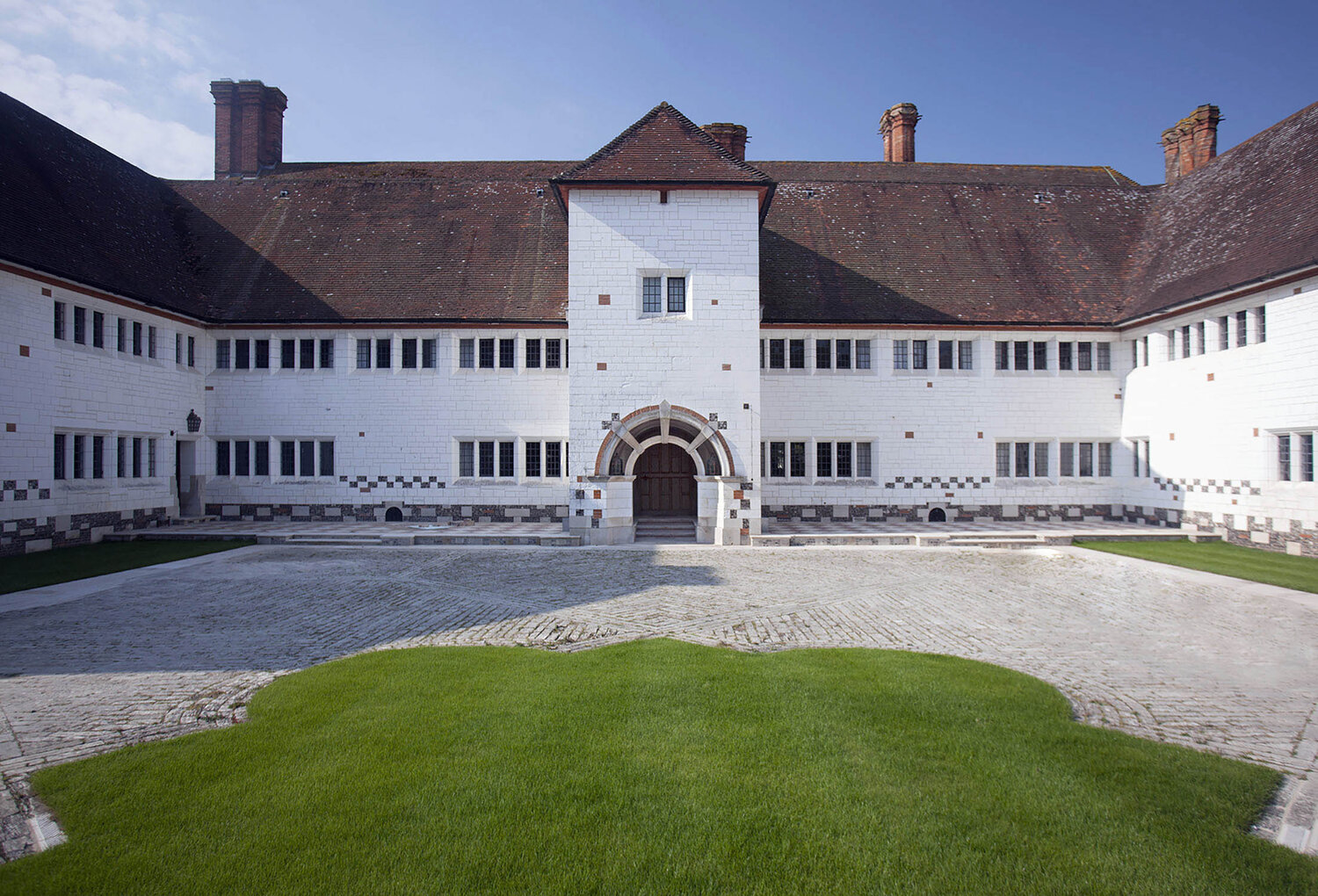 Built at the turn of the century, Marshcourt is one of architect Edwin Lutyens's most notable English country houses. Designer Robert Couturier recently gave the home's interiors a stylish dressing up.
Brooklyn 18th Century House
Couturier has contributed to major architecture and design books and, in October 2014, released his first monograph, Robert Couturier: Designing Paradises with Rizzoli New York, showcasing a beautiful range of multifaceted work, from Old World elegance to contemporary design.
Atlanta Penthouse
In his introduction Couturier admits, "I'm completely addicted to luxury. I have no ability for anything else." He lectures widely at galleries and at arts and antique fairs, and participates in charitable and design-industry events.
Classic Sutton Place
His work has been featured in publications such as Architectural Digest, Vogue, Vanity Fair, Town and Country, the New York Times, Condé Nast Traveler, House and Garden, The Robb Report, and Elle Décor and Wallstreet Journal.
See also: You Are Bound for Glory with these Billiard Room Lighting Ideas
Inspirational quotes from Robert Couturier
"It is to both grander and greater ends that one invents when one can start with one's own past."
"I give soul to everything I do. That is essential for me. I try to combine all styles, from classical to modern."
"For me, an interior must match the architecture, the location and, in particular, the people who live there."
See also: AN HYMN TO CELEBRATION AND TOGETHERNESS IN COVET LONDON'S DINING ROOM
Interesting facts about Robert Couturier
All his suits are custom tailored and he never wears jeans : The shop that makes my suits is called Douglas Hayward in London. Another guilty pleasure is ice cream but the problem is that if I buy too much ice cream I won't ever fit into my suits anymore!
He spends free time in the country with his boyfriend and dogs.  "I usually go on Thursday or Friday afternoon and come back Monday morning. My boyfriend is there and my dogs are there and my life is there"- he says in interview for So Haute.
Top Projects Gallery