Top 25 Wall Lights Ideas For The 2021 Year⇒ Decorate your walls with the best Wall Lights that Luxxu has to show you. We selected some of the best wall lights for you to enjoy and appreciate. Be bold, irreverent and classy because that's what Luxxu is all about.

Portraying the same extravagant lines of the Empire family, the Empire Wall Small Lamp provides intimate lighting with a lavish design, with delicate layers of gold-plated brass and crystal glass creating a glamorous atmosphere in whichever room they're placed.
A refined wall lamp inspired by the architectural lines of the Trump Hotel. A gold plated brass structure finished with sublime crystal glass tears. A wall lamp that provides charming lighting to the most elegant interiors.
Stretto Medium Wall Sconce by Kelly Wearstler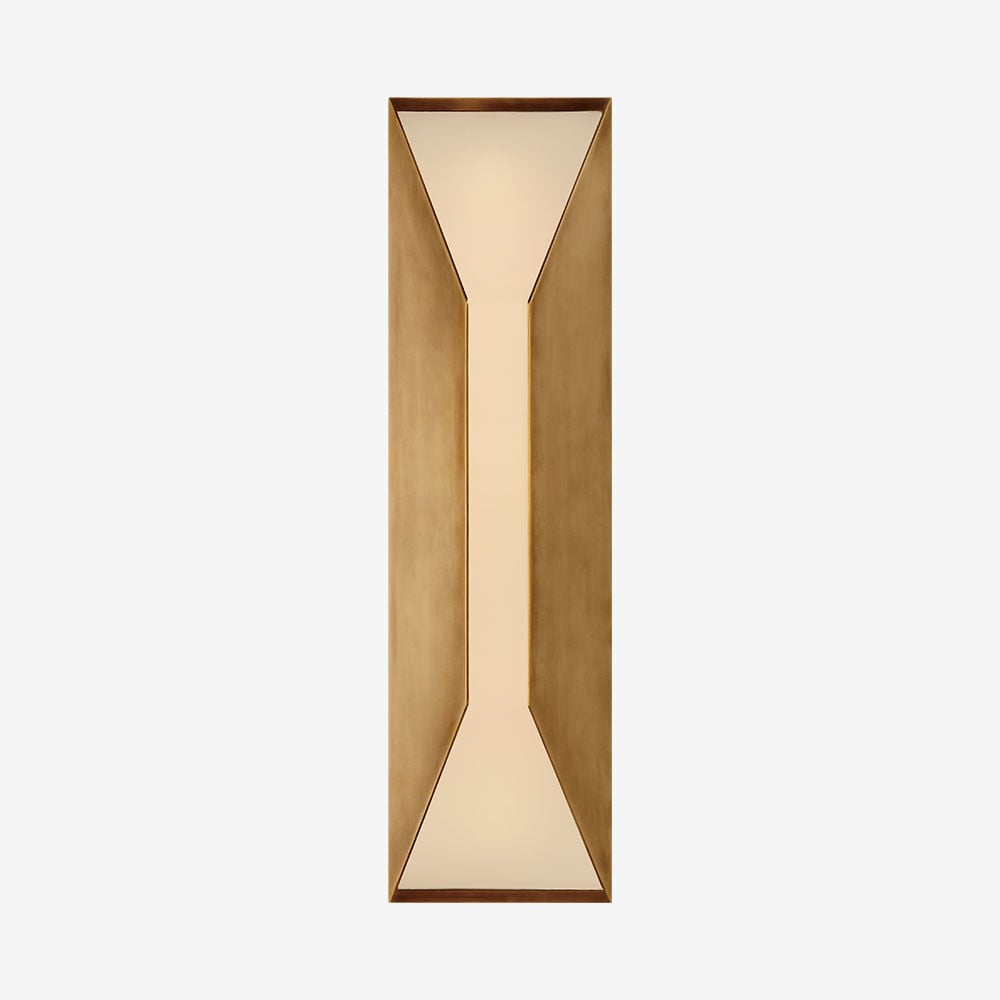 A confluence of clean lines and minimalist form, the Stretto Sconce is simply architectural. This sconce is available in either Burnished Brass, Bronze or Polished Nickel with Frosted Glass. It is wet rated for both indoor or outdoor installations.
The Wax collection conveys an old-classic luxury feel, with a contemporary approach. This classic wall fixture is fully made of gold plated brass and still gives a modern touch to any environment. Composed of several fine tubes of handmade crystal glass that flow uniquely and with a particular shape, this piece is a graceful and elegant design.
The torch version of our Gala family is a symbol of modern age and luxury, giving an elegant and shimmering look to any hospitality and residential project. A graceful piece fully made of the best high-end materials.
Utopia Round Sconce by Kelly Wearstler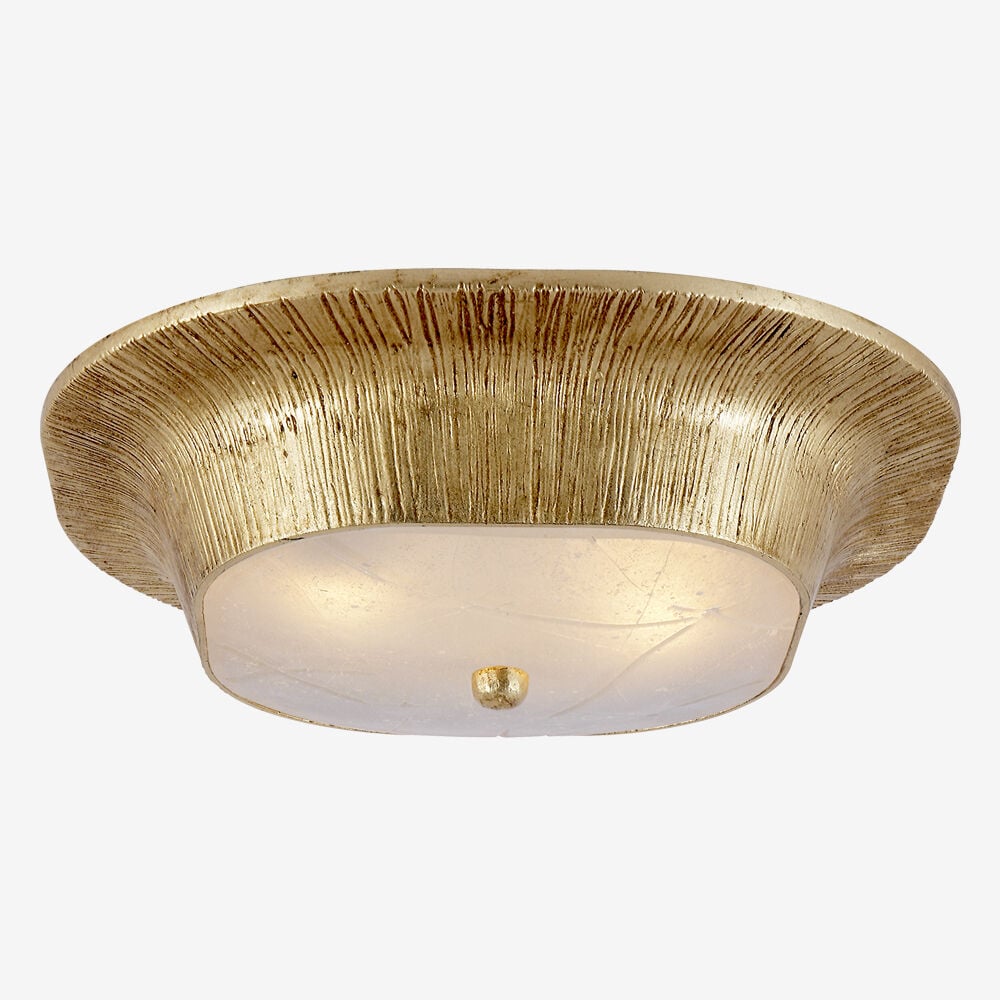 Utopia collection features topographic and organic forms inspired by California's coastal landscape. The carved bronze technique is juxtaposed with "cast shard glass" to evoke sensual drama and raw glamour.
Aruna Wall Light by Brabbu
After a visit to Wat Arun, a Buddhist temple in Thailand, our designers were inspired to create ARUNA Wall Light in an attempt to recreate the beauty of the first morning light. Featuring a shell in hammered gold-plated brass and shade in matte lacquer, this single sconce is a metaphor for the rising sun.
Soleil Wall Light by Brabbu
In an attempt to reinterpret the sun in a contemporary lighting piece, our designers conceived SOLEIL Wall Light. With a structure in hammered brass, this wall sconce will expand all over any room like sunlight rays. Discreet yet remarkable, SOLEIL will bring warm light to modern home decor.
Ori Tall Sconce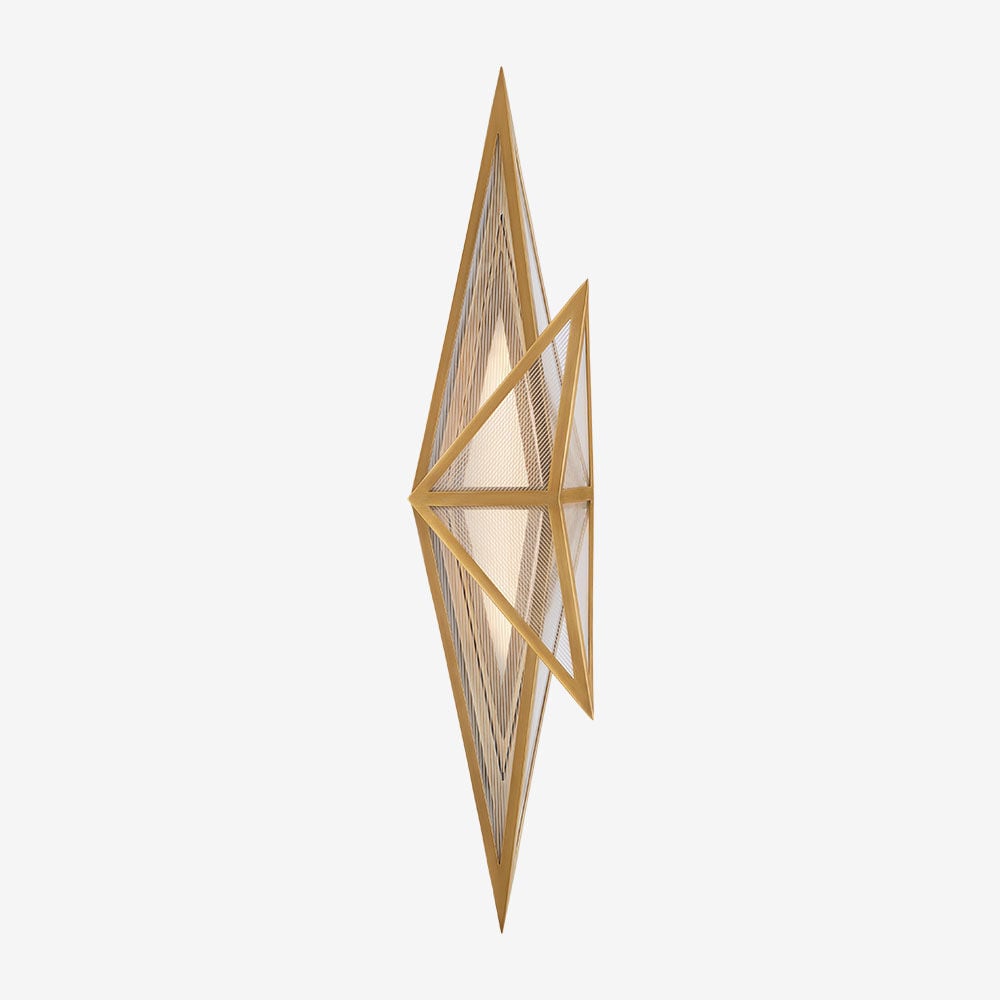 Inspired by the ancient art of Origami, The Ori Sconce has an architectural silhouette that highlights a dynamic interplay between clean lines and folded forms. This sconce features clear glass with a finely etched striping and is available in either Burnished Brass, Bronze or Polished Nickel. It is also rated for use in damp locations.
Basie Wall by Essential Home
Basie wall light fixture is a modern representation of the sci-fi aesthetics of the 1960s. The vintage mid-century lamp has a set of distinctive features which make it a stunning statement piece.
Banana Lamp Phooey
Banana Lamp by Studio Job in polished bronze, on display in Carpenters Workshop Gallery, is a symbol of outlandish creativity. Seletti and Un_Limited edition has proposed it in four glass and resin versions: Huey, Dewey ,Louie & Phooey.
Lisbon Sconce by Jonathan Adler
Large and in charge, our Lisbon Sconce is a glamorous gesture that's just as elegant in a studio apartment as it is in an Italian palazzo. A polished brass stem supports three half spheres of ivory enameled metal with subtle round perforations. With a soft ivory tone and gentle uplight, the Lisbon sconce balances strong presence with quiet glamour.
Brass Hand Sconce by Jonathan Adler
Surrender to the surreal. Available in left or right hands, each sconce is sand cast in brass with blackened accents. The inverted shade completes the torch-like effect. Fab in a dining room or ultra-intriguing in a foyer. The original Brass Hand Sconce prototype was sculpted by Jonathan and his team in our Soho studio.
Verso Single Sconce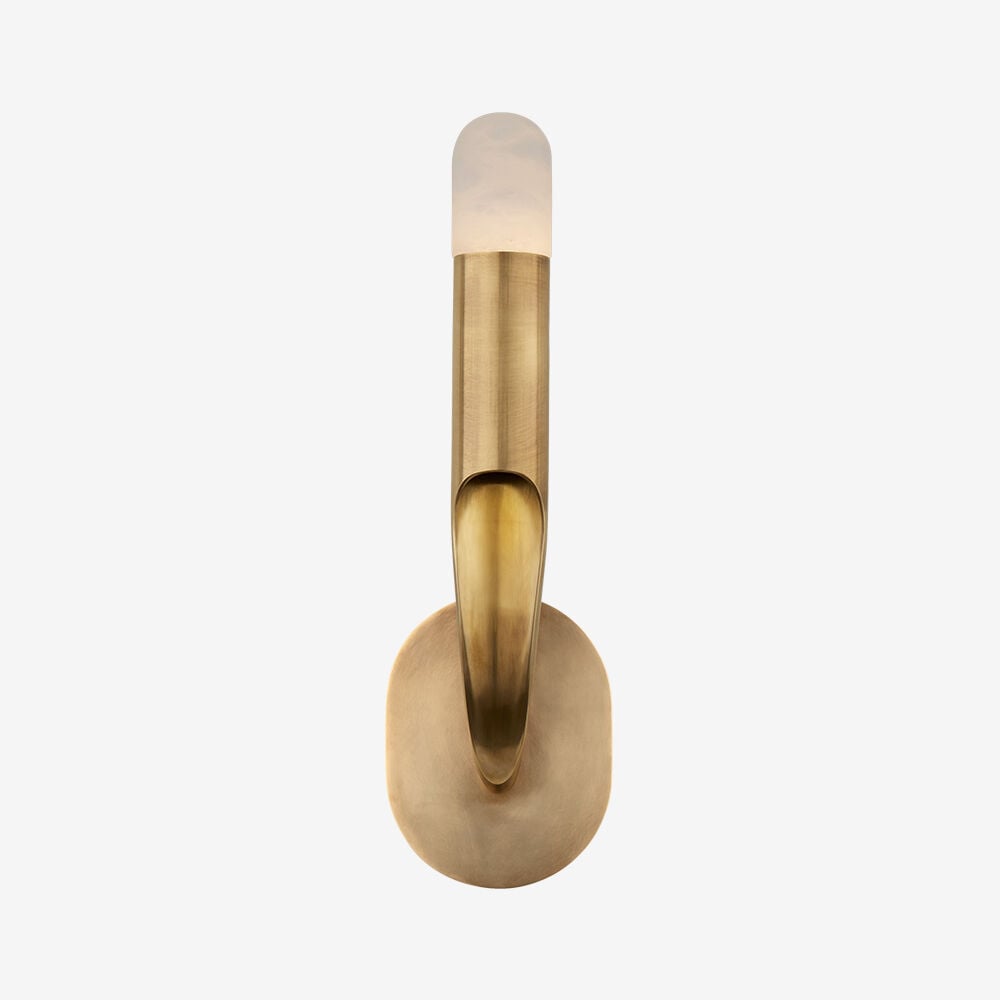 Pairing a sculptural morphology with a crisply chiseled lens, the Verso Single Sconce celebrates beauty in the anomalous. This petite sconce features multi-directional light and integrated warm L.E.D. technology, with a subtle light-wash effect down its arm. It is available in Antique Burnished Brass, Bronze or Polished Nickel with either a Clear Glass or pure White Alabaster lens.
The awe-inspiring artistry Guggenheim family continues to grow, presenting now the Guggenheim Wall. A magnificent combination of gold plated brass and black Swarovski crystals, it is yet another avant-garde creation that pledges to dazzle everyone in the room. Let this dashing design inspire your projects, forging the most exquisite and elegant ambiances.
Turner Wall
Turner is the perfect vintage addition to the Heritage Collection of DelightFULL. This art deco wall lamp suits flawlessly above a mid-century modern sideboard or as an entrance lighting.
Scala Wall
Elegant and luxurious wall lighting item, incomparable and impressive as the romantic details of Swarovski crystals. Poetically made in gold plated brass, with the handwork techniques of the craftsman, will bring a warm light to any dining or living room set, involving you in passionate emotions.
Electrum Sconce by Jonathan Adler
A double helix of polished brass and nickel rods flute out to cradle bold round bulbs. Kinetic, stately, and glamorous, our Electrum Collection is a future classic.
Jonathan believes design is successful if it looks as if it has always existed, as if it was uncovered rather than designed—the Electrum Sconce fits the bill.
Aurum Wall Light
Aurum is the Latin word for gold. This imposing metal also named a contemporary lighting piece made of matte hammered brass. With a unique design, AURUM Wall Light will bring comfort in the darkest nights with its warm yet sensitive light. This brass sconce is sure to impress.
Ginkgo Wall Sconce by Lalique
Lalique and Delisle present Ginkgo, a lighting collection combining the haute couture know-how of the master of crystal with the master of bronze art.
This alliance revives a great accord between the two houses, who have already met in the past. This new project is inspired by a chandelier from the 1930s; which was designed for the hotel Intercontinental and pulled out of the archives of Delisle.
Babel Wall Light
An original and exquisite décor fixture with an unmistakable presence, Babel wall lamp adds a classical appeal to any environment. The craftsman's crystal work singularity shines back in the circular surfaces where smooth, glamorous shades are reflected and held by a gold plated brass ring. A sublime item for a perfect ambience.
Draycott II Wall
Following the footsteps of Draycott I wall, this wall lamp contemplates all details of the Draycott Tower in two tubes. For all that, the design remains delicate and exquisite. Another wall lighting solution made of brass and crystal glass.
McQueen Wall
Made in brass with gold plated, handmade butterflies and majestic flowers, ending with the touch of the beautiful Swarovski crystals. The wall version of McQueen chandelier, evokes a dramatic and eccentric sensation of beauty.
Waterfall Wall
This creation represents a natural sensation of waterfalls. An elegant and modern wall lighting made of gold plated brass and handmade crystal glass tubes.
Séville Wall Sconce by Lalique
Designed by Marc Lalique in 1947, the Seville crystal element illuminates all interiors. Its satin finished crystal volutes create fascinating plays of light.
This majestic artwork reflects the passion, excellence, skill and the creativity of the best sculptors in lighting.
< ?php get_footer(); ?>
If you enjoyed this article about Top 25 Wall Lights Ideas For The 2021 Year, you can also find more interior design inspirations in our Pinterest boards and Instagram page.