7 Inspiring Dining Room Designs With Greg Natale – Greg Natale, a multi-award-winning Australian designer, is noted for his mastery of pattern and color, as well as his bold use of both in creating personalized, curated, and sophisticated settings. In today's article, Modern Chandeliers Blog brings you a glimpse of some of the most exquisite dining room designs by this talented interior designer along with some extra inspiration from a couple of other modern and luxurious design brands.
See also: The Ultimate Dining Room Showcase To Enter Thanksgiving In Luxury
Admire These Gorgeous 7 Dining Rooms designs By Greg Natale
Much of this family house is built for entertaining and it is extended out to the Myles Baldwin-designed gardens and pool. Custom metalwork can be found in the home's grills, balcony railings, and gates, while Greg Natale tiles greet visitors at the entryway. Inside this marvelous piece of real estate, there is a stunning dining room with a bold yet sublime pink color palette. Isn't it beautiful?
This three-story, five-bedroom house is a lovely combination of classic architecture and contemporary living, from its gorgeous blue walls with white trim to its archways and Art Deco furniture. The tones of blue found around the dining room offer a beautiful juxtaposition with the warmth from the stunning dining chairs.
See also: Dining Room Lighting Tips You Need To Know

If You Enjoyed These Creative Dining Rooms By Greg Natale
Then You Will Love These Luxurious Dining Ambiances By Luxxu
This amazing dining room emphasizes casual elegance and unmistakable refinement. Just observe the
Waterfall Rectangular Suspension
, everything sparkles under this elegant work of art.
What if you could explore History through luxury dining tables? Inspired by Greek Mythology, the
Apotheosis Dining Table
is the glorification of design and innovation. The polished brass legs give an unusual and chic effect to this piece that supports a marble and wood top.
Refinement and style greatly enhance the look of any
home bar
. This bar design is a part of
Luxxu´s deluxe project in Moscow
and the variety of luxurious elements that are highlighted by the
Liberty Pendant
give this ambiance a dazzling aesthetic.
See also: 10 Ideas For A Modern Luxury Dining Room
In Need Of More Inspiration?
Discover These Amazing Dining Rooms By Other Luxury Brands
Add an item with a color that brings the entire area to life, such as these dining chairs, to make your neutral design pop out. Sometimes all you need is a touch of velvet in your home.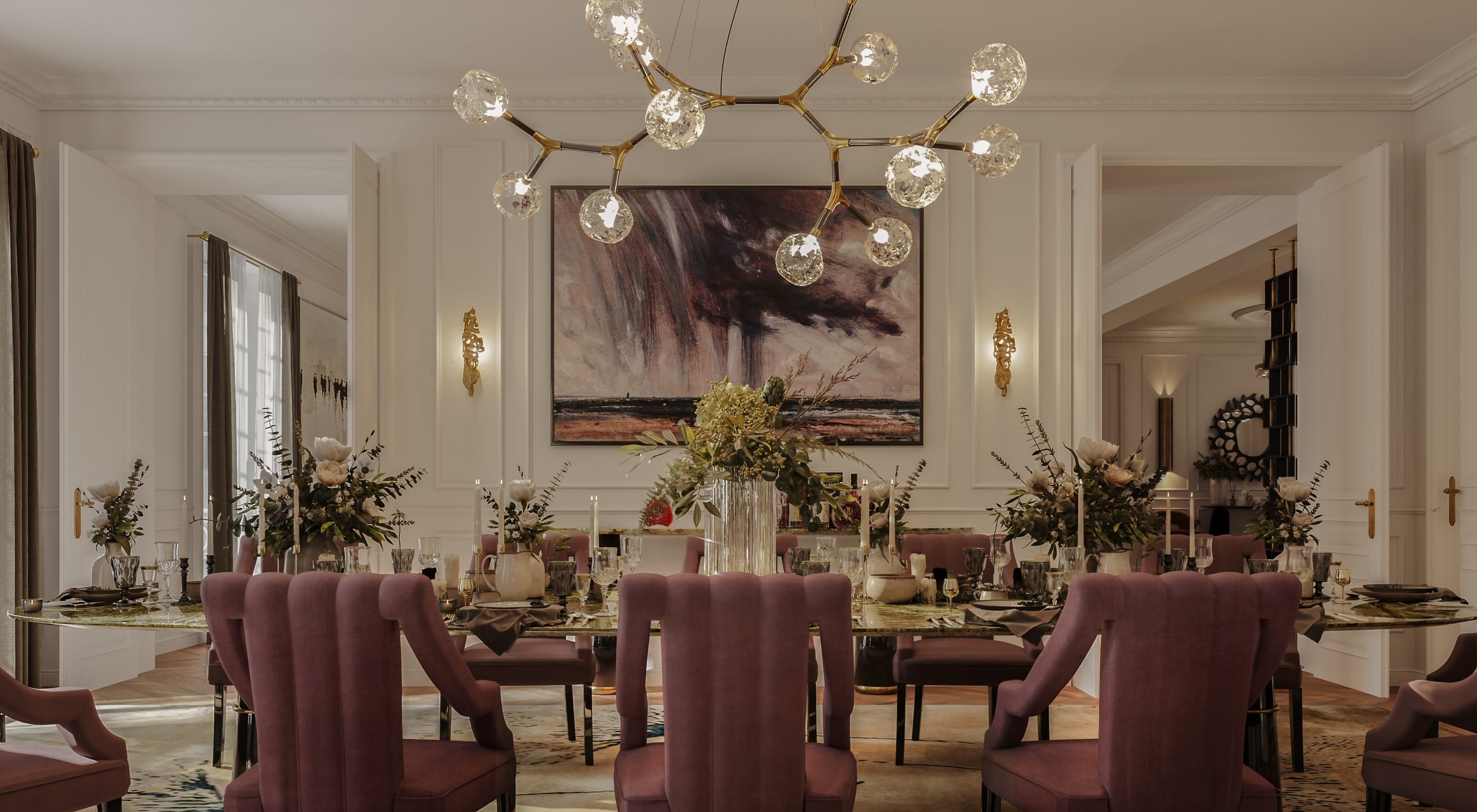 The dining room, like a supernova
explosion
, was created to foster brilliant and intense moments when interacting with friends and family. The dining area comes alive with the brilliant colors of midday thanks to windows that encourage the flow of light.
See also: Vivant Parisian Apartment – The Full Charm Of Paris In This Luxxu Design
If you enjoyed this article regarding
7 Inspiring Dining Room Designs With Greg Natale
then make sure to check out our socials to find news, inspirations, and more interior design ideas: 
Pinterest | Facebook | Instagram.
< ?php get_footer(); ?>