Interior Design Project: A Portuguese Palace Renovation ⇒ Built in 1904 in Caldas da Rainha, this palace is a stunning representation of Art Déco in Portugal. Firstly owned by Count Almeida and then the Viscount of Moraes until 2011, is currently a private residence that has been fully renovated by Portuguese interior design firm Love Design. For one of the palace's main suites, the interior design company chose LUXXU's lighting fixtures to accentuate the Art Deco luxury feel that begets this Interior Design Project.
Decorated with natural wood and a white, blue and gold color palette, the timeless elegance and refined character of the suite is enhanced by LUXXU's centerpiece, the Tycho Round Suspension Lamp, which combines artistry and magnificence into a highly decorative piece.
GET PRICE
To grant the room access to more intimate lighting, two Waterfall Wall Lamps by LUXXU, which were designed to mimic the natural sensation of waterfalls, were installed near the bed and the office area to serve as readings lights and provide a calming and relaxing aura to Interior Design Project, allowing for both a focused and relaxed environment depending on the guest's preferences.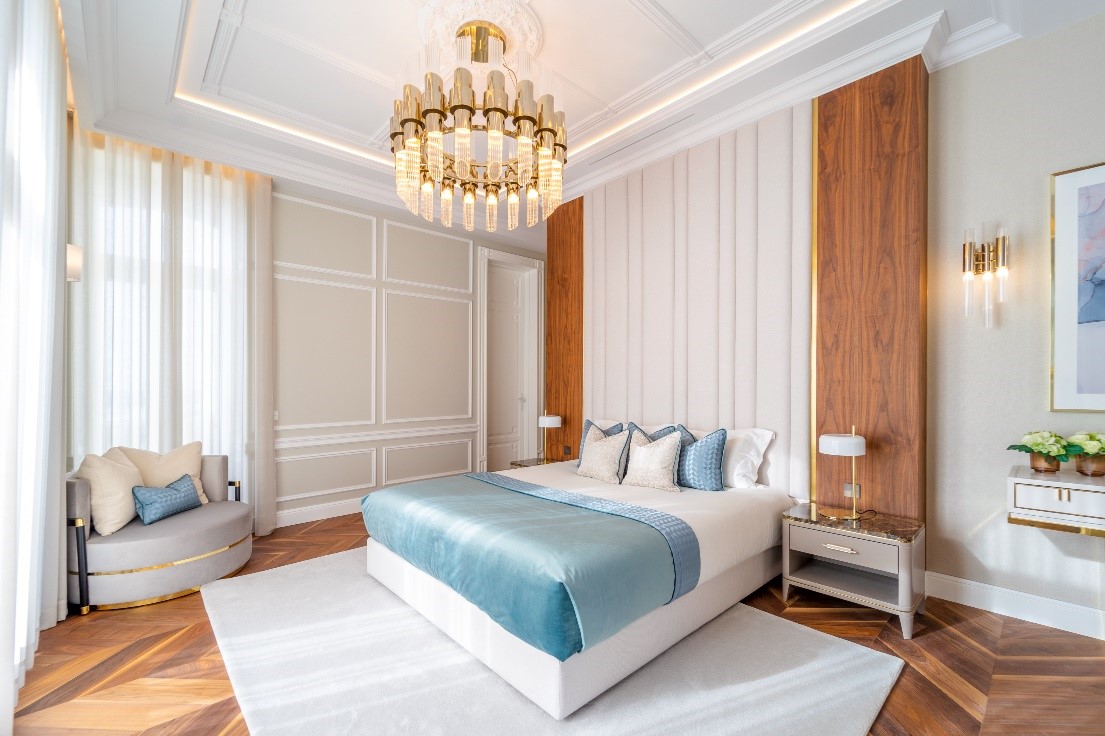 The combination of modern luxury furniture with the classic details of the palace's original architecture, such as the high ceilings adorned with boiseries, friezes and finials, grant this Interior Design Project an authentic, harmonious atmosphere. The noble, natural materials and the elegant details create highly sophisticated and luminous interiors fit for this amazing piece of history.
⇒ Read Also: Statement Lighting – Make Your Living Room the Classiest of Them All ⇐
If you enjoyed our article about modern design ideas, then feel free to subscribe to our blog and follow us on Instagram and Pinterest!