Kitchen: Design in a minimalistic way– Need a little inspiration for a kitchen upgrade? When it comes to the design of your kitchen, lighting plays an important role in both style and function that you don't want to overlook. Today, Modern Chandeliers show you different options for kitchen lighting that can give to your space the right type of lighting depending on your needs.
See also: Be Acquainted With This Thrilling New York City Loft By Luxxu
Kitchen in a minimalistic way

Parisian apartment
This division is the most modern room of all. Practical and simple, with high-quality materials that distinguish the design, this room represents the french style way of living. Designed in a minimalistic way, this area introduces The Explosion Suspension.
New York City Loft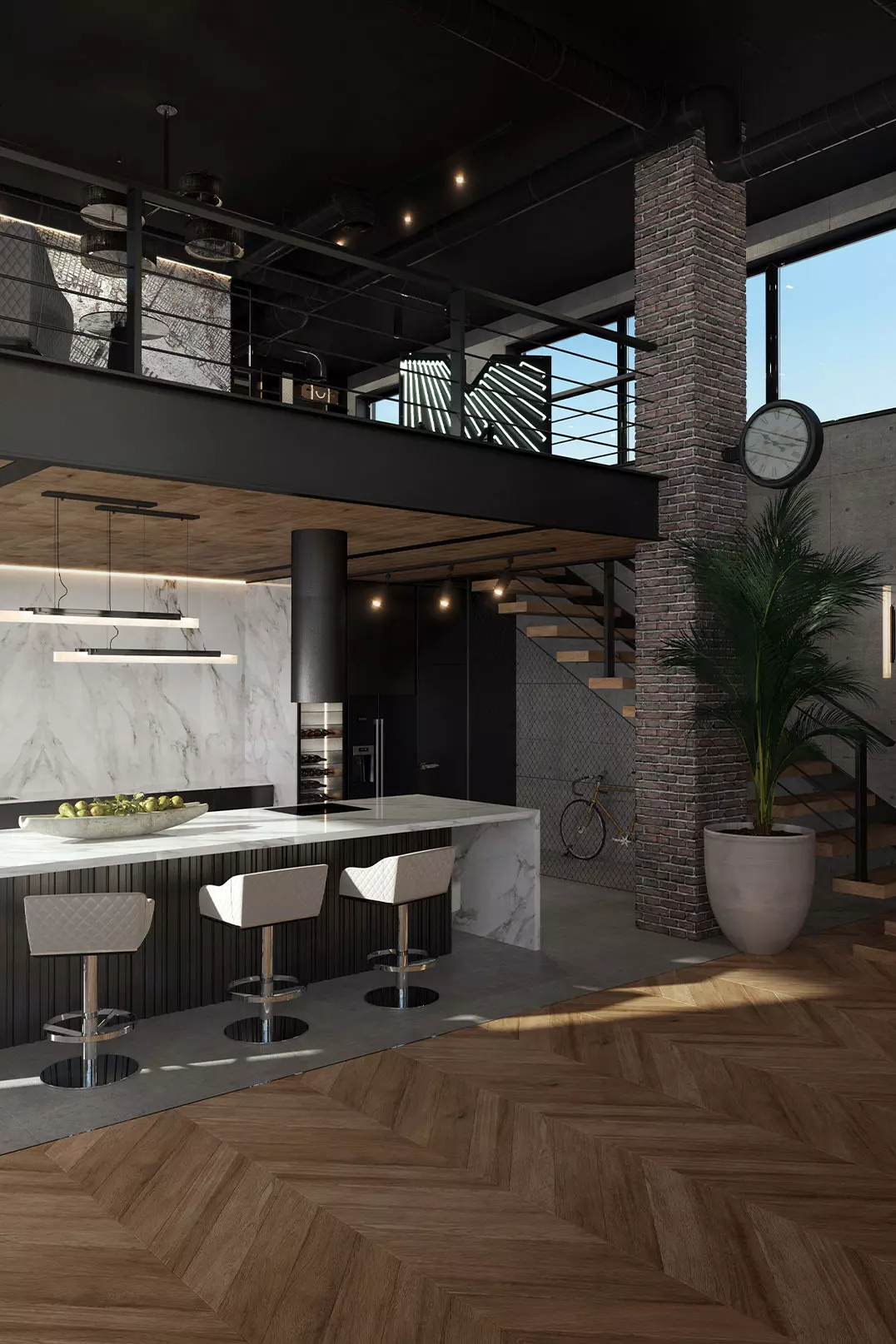 In order to have an opulent and contemporary kitchen, using contrasting tones like black and white is one of the most suitable choices. In our Modern Loft, we chose to use our Saboteur Swivel Bar Chair which provides comfort as well as keeping the modern look of this kitchen, as well as our Skyline Technical Suspension, a bespoke piece, made especially for this ambiance.

Miami Property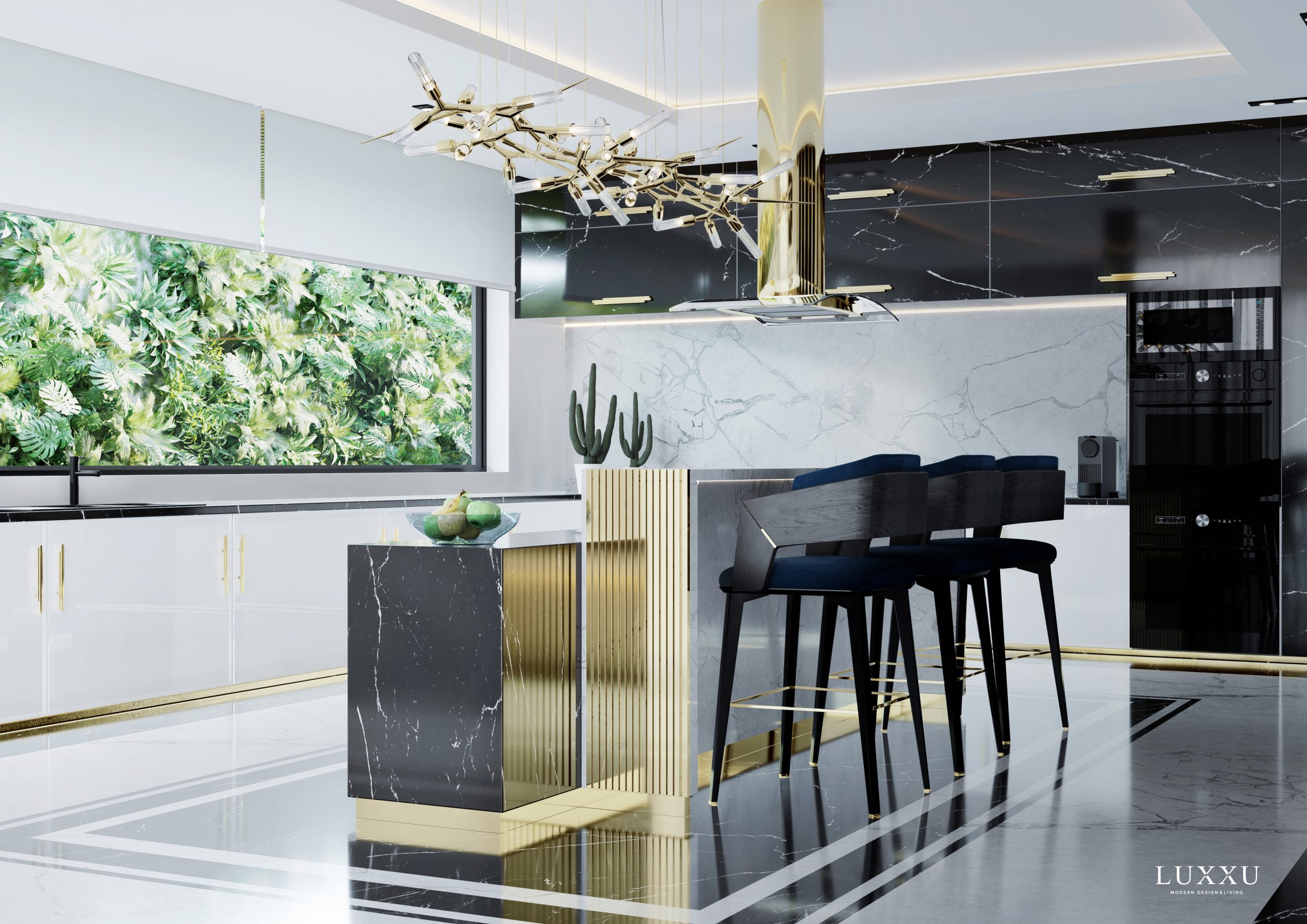 For the modern kitchen, marble was the material chosen to profusely decorate this space in tones of black and white, including walls, flooring, cabinetry, and kitchen island. The brass and crystal glass form of the Shard Suspension, a unique lighting fixture with a strong presence and character, pairs perfectly with the kitchen's marble theme. The modern velvet and leather Galea Bar Chair also adds an extra layer of refinement and subtle details such as the Skyline Door Handles and pulls by PullCast offer a more detailed nature to this interior.
See Also: A Dreamy Bedroom In Paris
 Boca Do Lobo
White is the key color of the interior design project giving it length and the perfect starting point for different contemporary design concepts. A neutral and clean background where everything fits perfectly in harmony. From gold surfaces that express luxury, to carefully hand-painted tiles preserving history, and the final touches of marble, one of the noblest materials to ever grace our world, every detail is carefully thought out.
Editor's Choice
Covet House
Lighting is an important element you should consider when decorating your luxury kitchen. These amazing pendant lights are from LUXXU and it's the perfect way to transmit elegance and purity to your kitchen.
See Also: Master Bedroom Design – A Perfect Aesthetic
To give your modern kitchen a sense of calm, consider a cool color palette like this one and make sure to add a unique touch with pendant lights or bar chairs. Kelly Bar Chair besides being stylish is made to be comfortable and stand the test of time.
Editor's Choice
Take A Look At These Modern Kitchens By Applegate Tran
A modern design with a stylish yet simple essence where wood color tones are predominant throughout the kitchen hardware and furniture.
The charm and beautifulness of this clean-looking kitchen cannot be denied. The white that fulfills the exquisite furnishings of this kitchen is complemented by the wonderful golden touches applied in the kitchen hardware and bar chairs. This is truly a room that can captivate any eye at a mere glimpse.
See also: The Prime Of Interior Design – Discover The New Charla Home By Luxxu
If you enjoyed this article regarding Kitchen: Design in a minimalistic way you can also find more interior design inspirations on our Pinterest boards and Instagram page.
< ?php get_footer(); ?>