Marvel At These Wonderful Projects By Laura Hodges Studio => A boutique design firm located in the Baltimore / Washington DC area, Laura Hodges Studio focuses on creating beautiful, tailored spaces while fully expressing every client's individual style and taste. Their lovely principal Laura Hodges is a credited interior designer known for her love for unique and dynamic environments. Today, Modern Chandeliers Blog will showcase some gorgeous projects by this wonderful design studio, we hope you enjoy, and most importantly, be inspired by their amazing work. Marvel At These Wonderful Design Projects By Laura Hodges Studio
See also: Best Interior Design Projects in Washington
Marvel At These Wonderful Design Projects By Laura Hodges Studio
Marvel At These Wonderful Design Projects By Laura Hodges Studio
Baltimore Residence
This Baltimore Loft design project is a perfect example of how Laura Hodges can create the cleanest looks you will ever get the chance to see. The way how all of the lovely spaces come together is simply marvelous and it really provides us with an extremely smooth ambiance. Marvel At These Wonderful Design Projects By Laura Hodges Studio
Green Branch Residence
A perfect showcase of calming and homely environment, everything from the soothing color palette full of bright and warm colors to the great lighting and styled furniture with comfortable and elegant upholstery makes all the difference when it comes to defining the identity and appeal of this project.  
Chesapeake Residence
The combination of grey and dark furniture with the natural bright colors of this Chesapeake Residence creates a beautiful and notable contrast that you can´t help but marvel at. Additionally, the selection of natural elements provides an exotic dash to this project.  
Ridgedale Residence
This Ridgedale project is really one of Laura Hodges's favorite projects, the overall interior design selection shows you how this design studio works closely with each client and pays attention to their needs and styles. This residence was converted into a lovely family home destined for longevity and precious moments.  
See also: Vertigo Side Table
Marvel At These Wonderful Design Projects By Laura Hodges Studio
Rosewood Residence
The main objective for this Rosewood project was to involve a musical essence to this stunning residence. The manner in which the space planning was arranged is simply brilliant as it allowed the lively interior design pieces and natural elements to blend perfectly with some of the musical elements like the guitars and the majestic piano.  
Summerlin Residence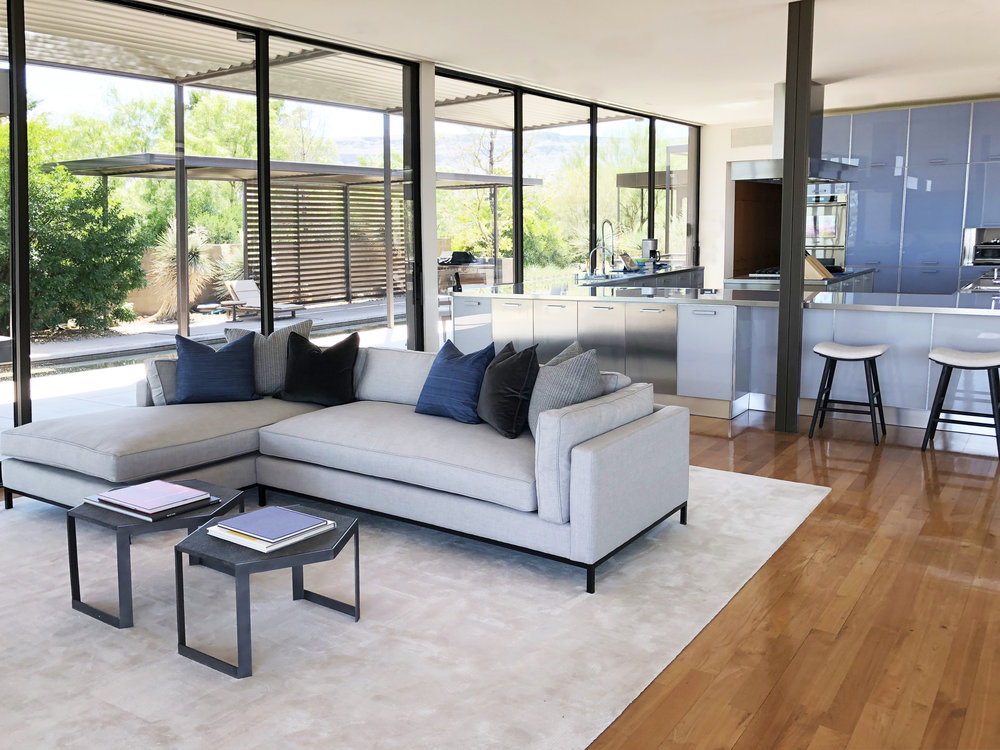 This Summerlin property in Las Vegas embodies everything you would wish for in a summer residence. Apart from the luxurious interior design solutions that look absolutely stunning, we highlight how excellent and seamless is the blend between the indoor and outdoor space. Marvel At These Wonderful Design Projects By Laura Hodges Studio
Editor´s Choice
Patapsco Residence
A beauty of a residential project, the multiple mixtures of distinctive elements is simply masterful, the mixture of contemporary upholstery with the natural and more rustic table is just stunning, adding to that the exquisite artwork presented in this project is greatly placed and highlighted.  
Highland Street Residence
The Highland Street design project is a great example of what subtle luxury looks like, the overall bright ambiance of this residence is complemented with dazzling artwork and seductive lighting, a type of environment only someone as talented as Laura Hodges could achieve.  
See also: Needle Table Lamp
Marvel At These Wonderful Design Projects By Laura Hodges Studio
Ballymahon Residence
The diversity of the color palette for this project is something to behold, the mixture of warm and neutral colors brings a whole new dimension to this residence's interior design. Overall we have a dazzling clean ambiance with a colorful flair attached to it.  
Baltimore Symphony Orchestra Show House
A truly attractive design project at the BSO Show House. This might be one of the most complete pieces of work Laura Hodges has put together over the years, with a strong touch of nature and modern furniture the end result was the characteristic smooth and appealing ambiance that would make your eyes light up. Marvel At These Wonderful Design Projects By Laura Hodges Studio
Editor´s Choice
See also: Top Interior Design Firms in Washington
If you enjoyed this article regarding Marvel At TheMarvelse Wonderful Design Projects By Laura Hodges Studio then make sure to check out our socials to find news, inspirations, and more interior design ideas: Pinterest and Instagram.
Marvel At These Wonderful Design Projects By Laura Hodges Studio
< ?php get_footer(); ?>
Marvel At These Wonderful Design Projects By Laura Hodges Studio
Marvel At These Wonderful Design Projects By Laura Hodges Studio