The 10 Master Bedrooms Must See – A master bedroom is a holy area a place to unwind, refuel, and temporarily let go of the weight of the world. Modern Chandeliers Blog is here to inspire you by providing fantastic bedroom ideas in which luxury furniture and lighting play an important role and are combined for an excellent effect. The stakes are quite high, but we are certain that we will exceed your expectations!
See also: Master Bedroom Design – A Luxurious Paradise In Miami You'll Love

10 Master Bedrooms You Must See
Observe These Bedrooms By Renowned Interior Designers

Do you have a large luxury bedroom and enjoy victorian vibes? For this design trend, you should keep an eye on Peter Marino, a prominent interior designer. Are you ready to feel like you're in charge?
Ferris Rafauli is an award-winning and internationally famous master designer and artist who conceptualizes, constructs, and builds ultra-luxury residences and lifestyle creations for affluent clients worldwide. Ferris Rafauli considers houses to be complete pieces of art.
See also: Outstanding Bedroom Design Inspirations
Be Inspired By These Luxxu Master Bedrooms
Merging artwork and luxurious décor is not always as simple as it looks, however, for Luxxu arranging any space with exquisiteness is a must so the brand works hard to provide the utmost excellence in everything it produces. This bedroom followed a color palette centered around a captivating whiteness with green hues and unmistakable golden accents. A truly marvelous ambiance that compresses endless luxury with all the charm you would associate with the city of Paris.
For an upgraded look, make sure to select a nightstand that highlights a distinctive drawer handle, take for instance the example below, a unique design gets further enhanced by the presence of PullCast's Waltz drawer handle.

One of the most essential rooms in the house is the bedroom. Decorate yours with luxury furnishings such as this and combine some magnificent lights to create a much more spectacular ambiance while maintaining comfort.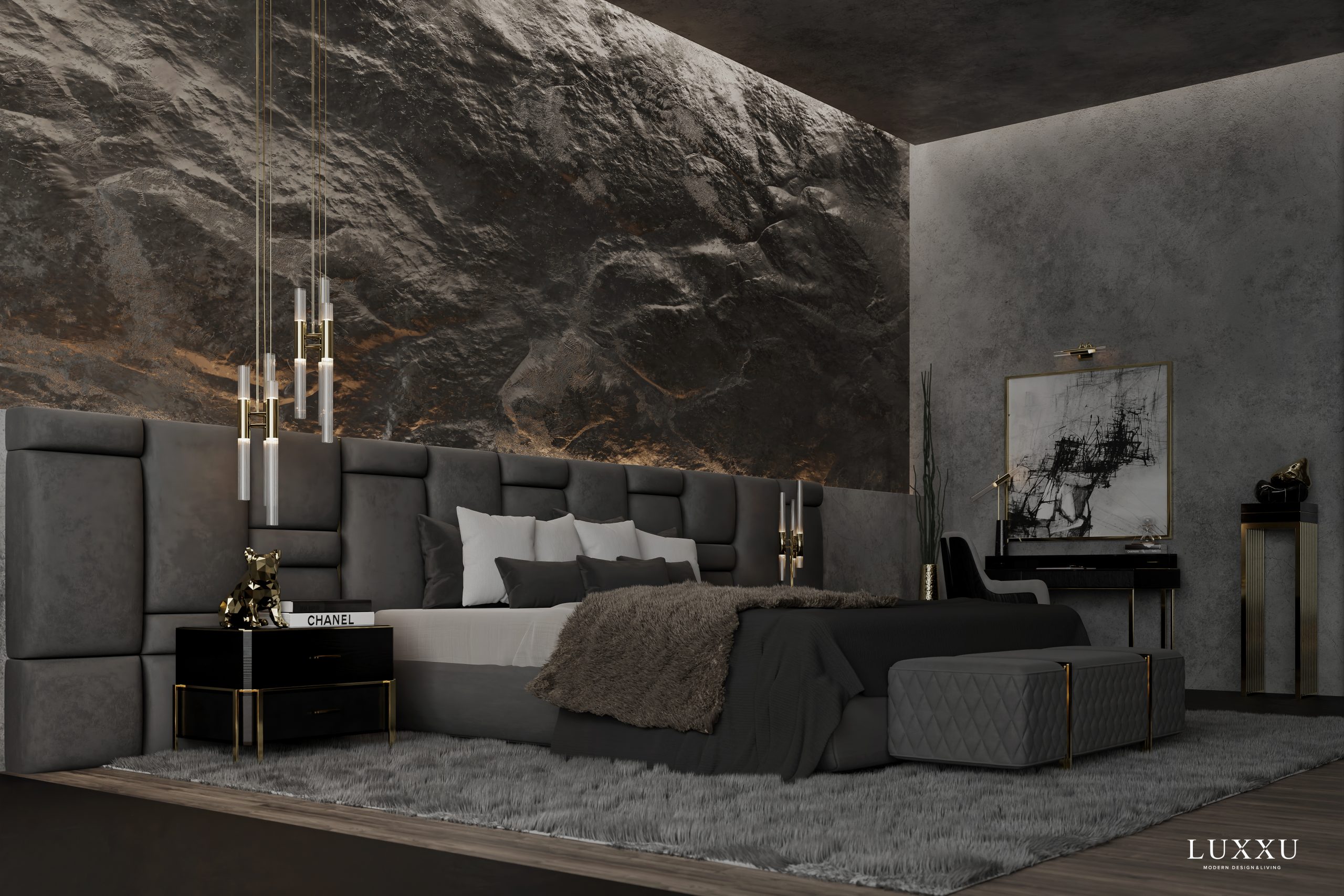 Putting together a monochromatic bedroom isn't an easy task, especially when we're talking about all-grey walls and design pieces. The trick is to mix different textures and materials. The most suitable lighting fixture will emphasize volumes and shapes adding contrast and depth to the room.
See also: Bedroom Decor Inspirations
In Need Of More Inspiration?
Contemplate These Master Bedrooms By Other Luxurious Brands
Through its efficient, clean, and compelling style, this master bedroom reflects a contemporary modern design. Every item compliments each other without being overbearing, resulting in a relaxing and memorable experience. What are your thoughts on the Heritage Sepia Sideboard?
The master bedroom was planned to be simple and dark so that nothing interfered with the rest of the space. Wooden soft panels soften the room and soften the contrast between the dark walls and the light ceiling and floor. Furthermore, the Wales Bench adds a touch of refinement to the whole scene!
Sometimes all we need is a burst of color in otherwise neutral carpeting. It's all about breaking rules and creating new languages, much like the Valencia Rug. Luxury also implies not being vulgar, and if you're seeking designs that are out of the ordinary, go no further.
When it comes to master bedrooms, lighting is always crucial. Norah is a mid-century modern lamp design influenced by 1950s décor. This modern sputnik chandelier lamp is the ideal blend of mid-century modern and minimalist style. The delicate curve of Norah's arms is the focal point of this 17-light brass chandelier finished in nickel-plated.
See also: Master Bedroom Design – A Perfect Aesthetic Creation By Luxxu
If you enjoyed this article regarding The 10 Master Bedrooms Must See you can also find more interior design inspirations on our Pinterest boards and Instagram page.
< ?php get_footer(); ?>