Gino Sarfatti – The mastermind behind Arteluce – One of the most important lighting designers of the 20th century and two times winner of the Compasso D'Oro for excellence in industrial design, Gino Sarfatti is the topic of discussion in this new Modern Chandeliers blog article.
---
See also: The Most Iconic Chandeliers
---
Gino Sarfatti was born in Venice, Italy, in 1912. Unlike others, he didn't start with a background in arts nor architecture. Sarfatti was studying Aeronautical enginery in the University of Genoa when he had to quit his studies due to the problems the family business was facing at the time. It was only when he moved to Milan that he had the first contact with lighting design, when a family friend asked him for help turning their vase into a light fitting.
In 1939, Sarfatti established Arteluce which would later become a national and international point of reference for the modern architecture movement in lighting, thanks to the sculptural, architectural lighting fixtures produced by the company. In 1943, Gino Sarfatti had to leave Milan due to the World War II and his jewish heritage but he returned in 1945 to take charge of Arteluce once again.
---
See also: Bedroom Lighting Ideas Ebook
---
Between the 1930 and the 1970, when he retired, Sarfatti produced over 600 floor lamps, table lamps, chandeliers, pendants and spotlights. Due to their innovative materials, technology and production techniques, the lighting fixtures produced by Arteluce became timeless products that still fit in with today's aesthetics. Artelice also served as an important forum for other designers like Franco Albini, Gianfranco Frattini or Vittoriano Vigano. In 1973, the company was bought by Flos. After Sarfatti's death in 1984, his legacy remained and was continued by his son, Riccardo Sarfatti, who established Luceplan, and his grandson, Alessandro Sarfatti, who created Astep.
---

---
Most Famous Designs By Arteluce
Sputnik Chandelier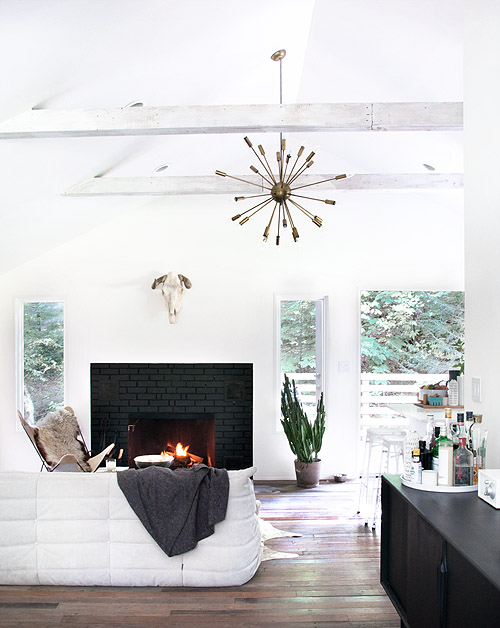 Gino Sarfatti was the first to design the Sputnik Chandelier, a lighting fixture inspired by the first satellite to orbit the Earth. This chandelier became one of the symbols of the "Atomic Age", when the fear of the nuclear war dominated the West, impacting architecture, commerce and interior design. Nowadays, this design is still popular and can be found in many interior design projects.
Editor's choice:
---
See also: Crucial Role Of Lighting Fixtures
---
Model 2065 Suspension
This model is the representation of Sarfatti's desire to experiment with materials. This suspension is made from methacrylate, a lighter material when compared with glass and very innovative for the 50s. Sarfatti's vision was so ahead of its time that nowadays this lighting fixture is still very much in style.
Le Sfere
Inspired by the moon, Le Sfere was created in 1959. With a simple and elegant design, this iconic piece is part of the largest collection designed by Gino Sarfatti. Le Sfere has been part of many design projects and can be seen in a variety of compositions inside Teatro Regio in Turin, Italy.
Editor's choice:
---
See also: New Era Of Decorative Lighting
---
If you enjoyed this article regarding Gino Sarfatti – The mastermind behind Arteluce you can also find more interior design inspirations on our Pinterest boards and Instagram page.