Statement chandeliers often acquire a larger proportion and a more embellished nature. This is so the case with the ensuing interior design ideas that surely present all the timeless allure and grandiosity one is looking for!
When interior designers want to introduce personality and drama, they often resort to statement chandeliers, among other enticing interior design ideas. Statement chandeliers allow for a more outlandish character that brings an unparalleled flair of glamour and they certainly become the focal point in whatever division they are hanged. From dining and living rooms to office designs, prepare yourself to see the most exquisite interiors where dramatic chandeliers steal the show!
This modern office design by LUXXU highlights darker tones with flashy pops of gold, including in the lighting piece. The attention-grabbing Pharo chandelier was inspired by the robust yet simple architecture of lighthouses and presents a gold plated brass and crystal body.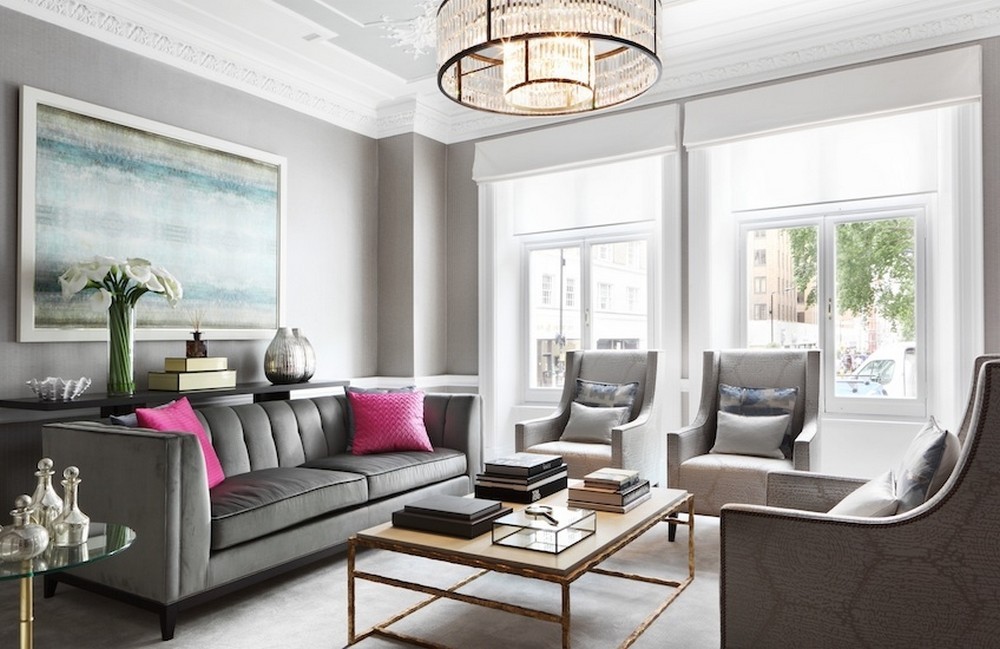 Modern elegance completely reigns in this sublime living room design. This sophisticated set was created by Taylor Howes and highlights a timeless chandelier with vertical lines and slender prisms that offer this space stunning light refractions.
⇒ Related Article: Chandeliers Trends 2020 ⇐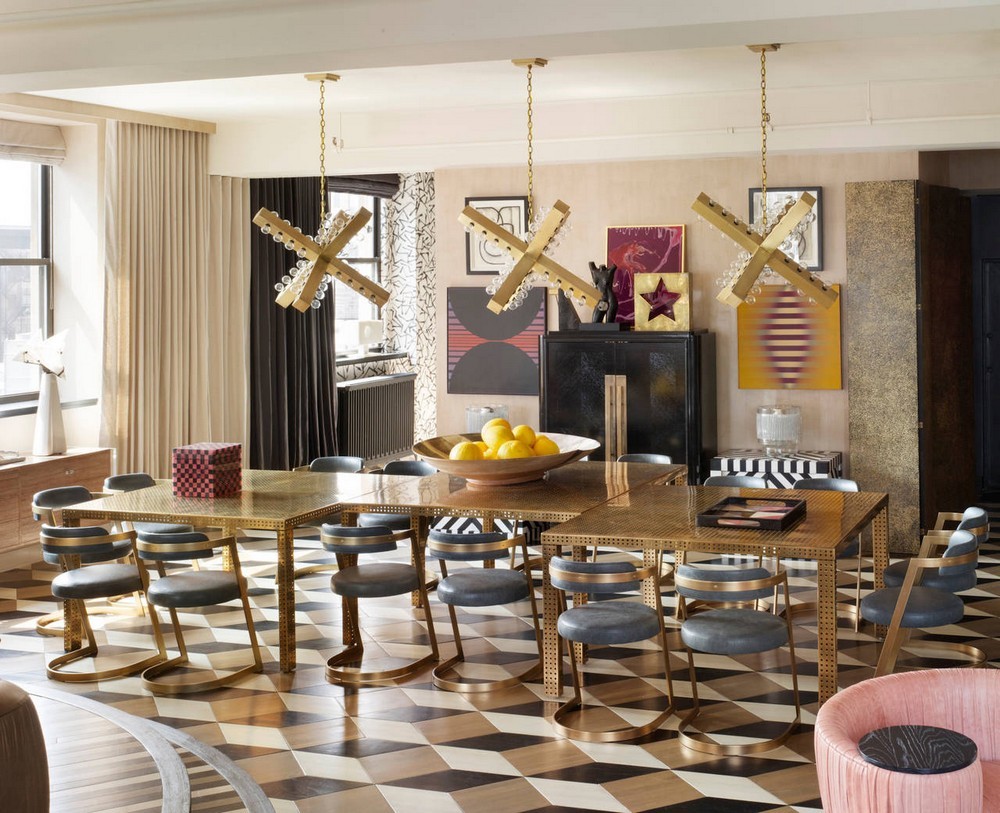 Best known for her bold and colorful approach to design, Kelly Wearstler has been able to completely change the concept of glamour and modernity and the following dining room design reflects just that. What stands out in this division is without a shadow of a doubt the playful trio of jack-shaped statement chandeliers.
In the dining room of this Upper East Side flat, you can see a spectacular brass and crystal lighting design. Ovadia Design Group decorated the residence using mostly a soft color palette and a wide range of contrasting patterns.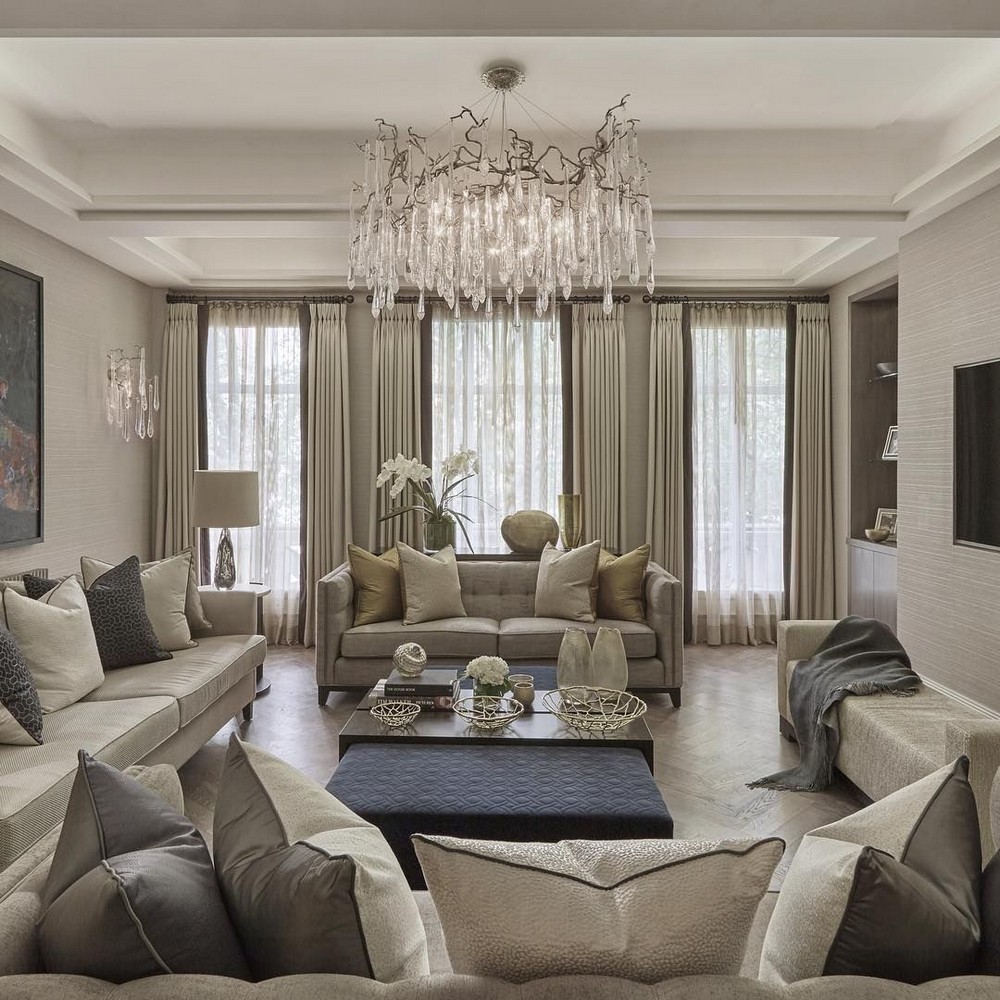 This neutral-toned living room was conceived by Laura Hammett. The set highlights a mesmerizing and architectural chandelier that has a branch-like structure and glass droplets and evokes an ethereal character to this division.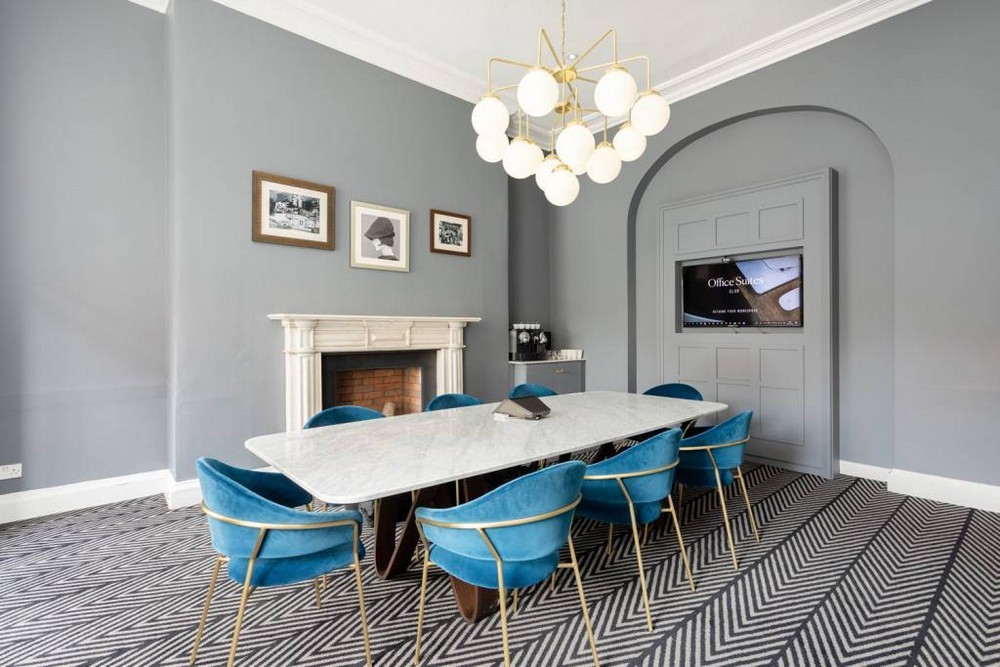 In this astonishing dining room designed by Think Contemporary, the Rome chandelier by prestigious lighting brand, Mullan Lighting grants an unmatched sense of elegance and contemporaneity. This piece is further enhanced by globe opal glass shades.
Revel in the outstanding interior design of a Pacific Heights home in San Francisco by Applegate Tran Interiors. In the sumptuous dining room, one can find a peculiar statement chandelier that features designs of butterflies and majestic flowers for a floral-inspired look. In addition, the lighting design is appointed with Swarovski crystals.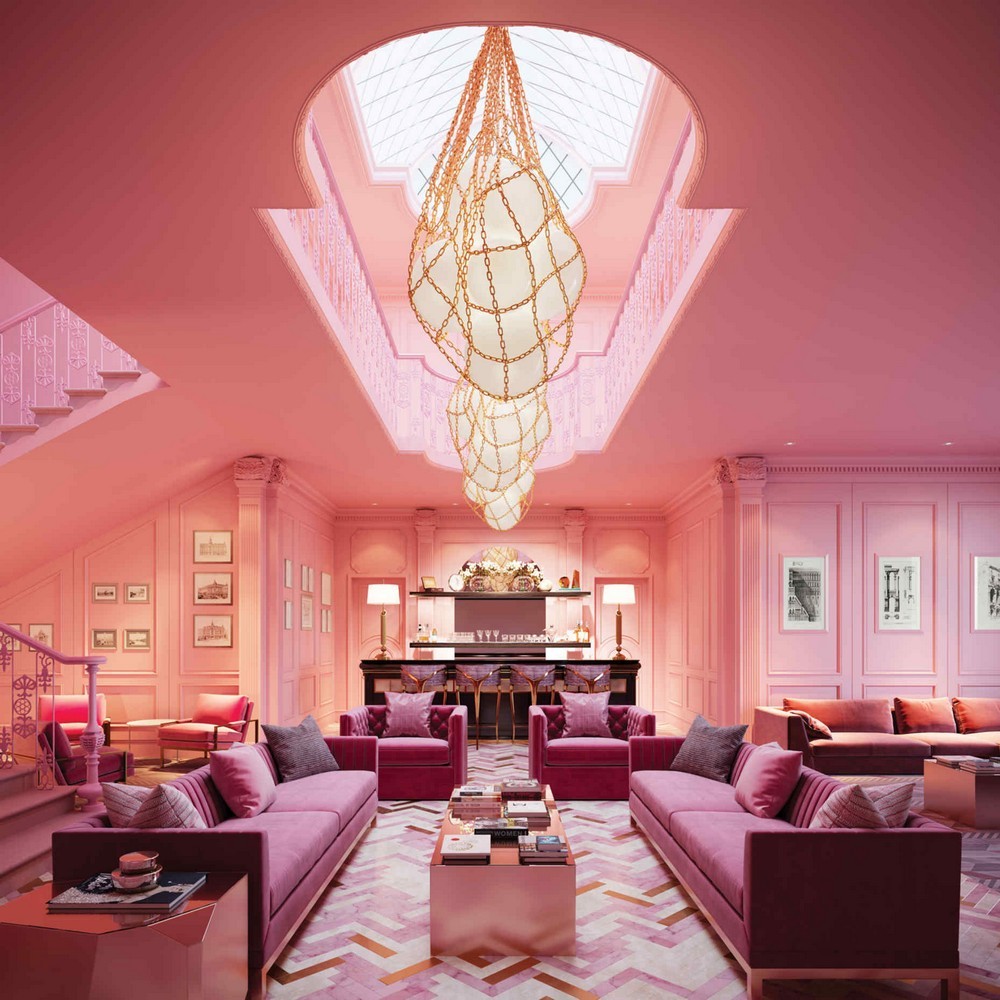 The London-based design reference, Cameron Design House was responsible for the design of this outstanding interior design set. It features the studio's massive Helmi chandelier which highlights hand-blown glass forms and inside it features 24ct-gold-plated nets, providing an exuberant nature to this space. These statement chandeliers certainly make everyone turn their heads.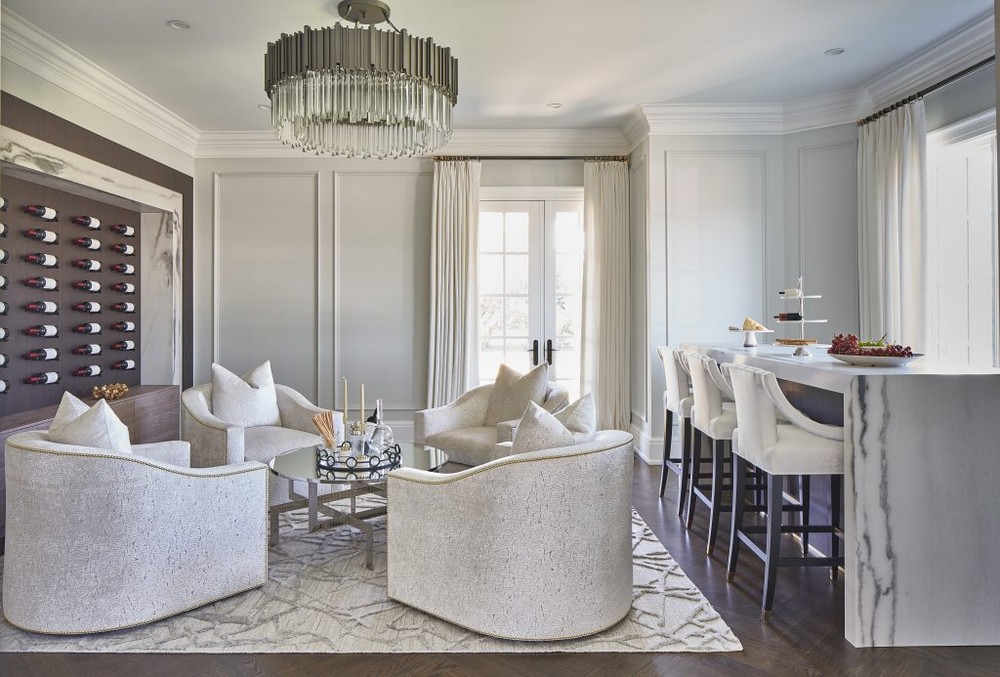 House of Style & Design's owner and principal designer, Yelena Gerts designed this beautiful neutral living room/lounge that highlights one of the most outstanding statement chandeliers in silver tones, inspired by the Empire State Building.
An oversized chandelier can actually do wonders if you have generous dining or living rooms as well as if you have vaulted ceilings. For example, this all-white chandelier was designed by Studio Job for Moooi and definitely provides a modern design to this space.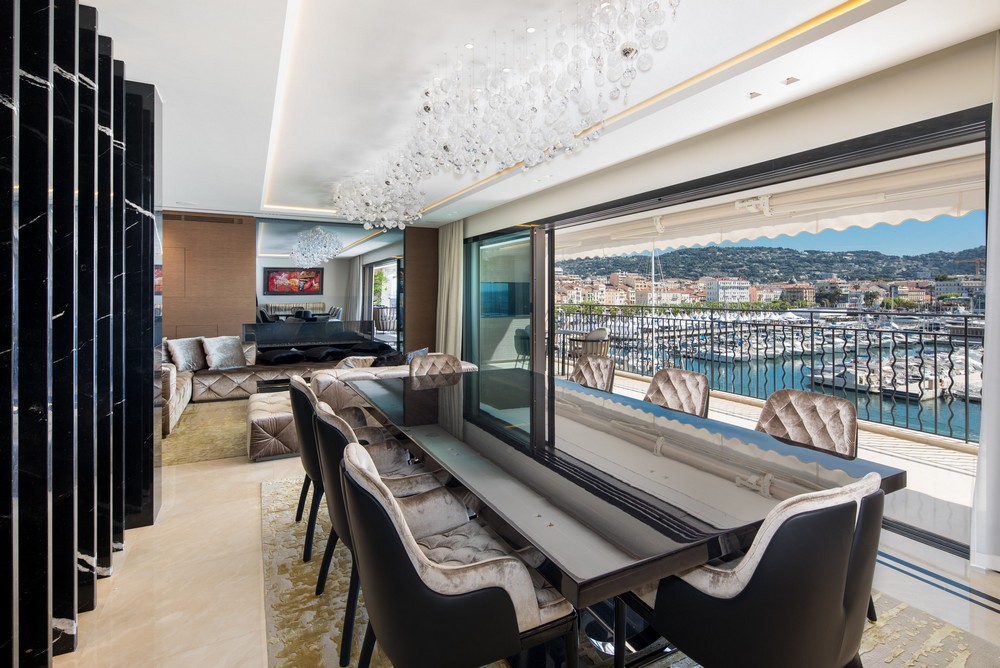 Cochet Païs Architecture developed the interiors of an Haute Couture Cannes residence where the dining room offers sweeping views of the city and harbor located nearby. In the dining room, you can find a unique statement crystal chandelier and exquisite furnishings, like the Charla dining chairs by LUXXU.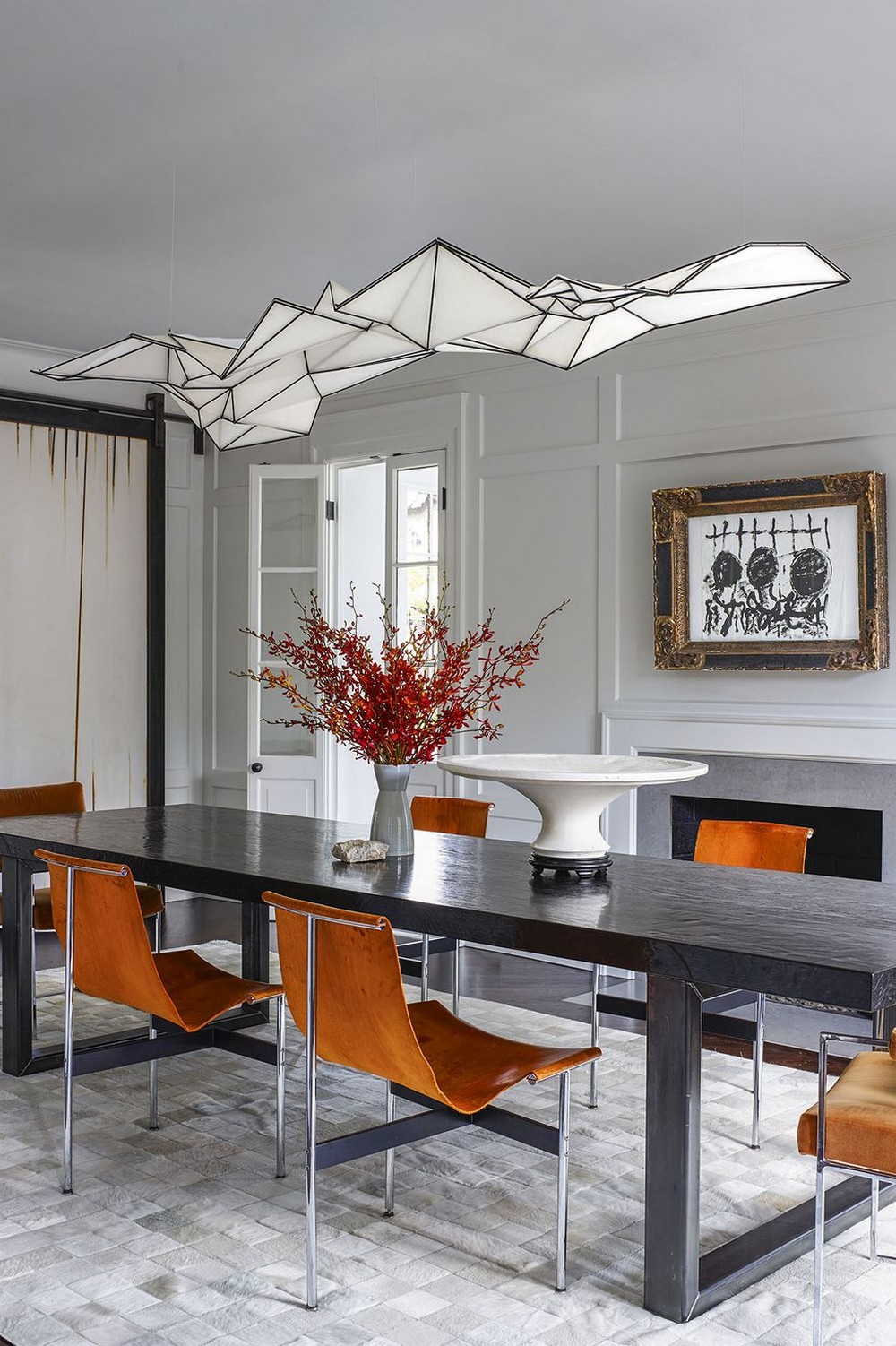 This exquisite dining room was decorated by Darryl Carter. Its main star is undoubtedly the origami-inspired light diffuser by artist Margaret Boozer, which makes quite a statement due to its sculptural nature.
Decorator James Aman and architecture practice, Leroy Street Studio conceived the mid-century interiors of this stunning dining room. This space highlights two lighting fixtures, inspired by the '60s that are rather complementary to the other designs.